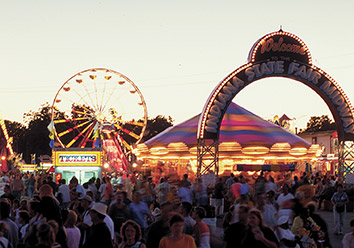 Nathan Byrd was known as a daredevil, a wiry stagehand who would take on jobs no one else wanted. But one thing scared him: the quality of the canvas roof covering the stage at the Indiana State Fair.
"He said it scared the crap out of him all the time," said Randy Byrd, his older brother.
Byrd was working 20 feet above the stage Saturday night when a wind gust estimated at 60 to 70 mph toppled the roof and the metal scaffolding holding lights and other equipment. The stage collapsed onto a crowd of concert-goers awaiting a show by the country group Sugarland.
Byrd and four others were killed. Twenty-five people remained hospitalized Monday.
As the fair reopened Monday, investigators and the families of the dead and injured were still seeking answers to hard questions: Was the structure safe? Why were the thousands of fans not evacuated? Could anything have been done to prevent the tragedy?
State fair officials have not said whether the stage and rigging were inspected prior to Saturday's show. Fair spokesman Andy Klotz said initially that the state fire marshal's office was responsible for inspections, but he backtracked Monday, saying he wasn't sure whose job it is.
A spokesman for the Indiana Department of Homeland Security said neither the fire marshal nor Homeland Security officials conduct inspections. And the city does not have the authority to inspect items on state property.
"We do have our own requirements within the city for temporary structures, and we do have our own permitting requirements," said Kate Johnson, spokeswoman for the Indianapolis Department of Code Enforcement. "But in this situation, we don't have that authority because it's state-owned property."
As they investigate, inspectors for the Indiana Occupational Safety and Health Administration will be looking at the weather and any potential structural or design flaws in the stage, among other things, experts said.
Another emerging issue is whether fair organizers responded quickly enough to forecasts of an approaching storm, especially since a different concert not far away was canceled because of the weather.
Just 15 miles north in Fishers, about 6,700 people attending a performance by the Indianapolis Symphony Orchestra were evacuated Saturday from the Conner Prairie Amphitheater.
Tom Ramsey, the orchestra's vice president and general manager, said the group reviews information from a private weather company and consults with the National Weather Service, with a goal of giving patrons at least 30 minutes to get to their vehicles if bad weather threatens.
"We saw a storm that contained lightning dip south a little bit. Once we saw that, I made the decision to stop the concert and send everyone to their cars," he said.
At the fairgrounds, concert-goers and other witnesses said an announcer warned them of impending bad weather, but there were no warnings to clear the area.
Fair officials said the stage that collapsed is erected at the start of the fair each year to provide a framework on which performers can add their own lights or other features. The roof can be raised or lowered based on the act.
Saturday's accident was at least the fourth stage accident since the start of July. Earlier this month, wind blew over a lighting rig at a music festival in Tulsa, Okla., and lightning toppled a stage under assembly near Quebec City. That followed a summer gale that toppled a stage in July at a music festival in Ottawa, Canada, where the band Cheap Trick was performing. Three people were hospitalized.
In 2009, another Canadian storm knocked over a stage in Camrose, Alberta, killing one person and injuring about 75. And that same summer, a stage failed at Quebec City comedy festival.
The owner of the company that installed the rigging in Indianapolis expressed sympathy for the families of those killed or injured. A telephone message seeking comment from a spokesman for Mid-America Sound Corp. was left Monday by The Associated Press.
Industry standards do not spell out exactly how concert organizers should react when unexpectedly severe weather hits an outdoor event using a temporary stage, but they do specify that a safety plan should be in place.
"You have to figure out what are you going to do if some extreme weather event comes up and exceeds what you're designed for? What's your operational plan? How do you get people out of the way? How do you lower the roof?" said Karl Ruling, the technical standards manager for PLASA, a professional trade association for businesses that install equipment for entertainment venues.
"Obviously this is not how they planned it," he said. "But how it ended up being wrong, I don't know."
Bill Gorlin, vice president of McLaren Engineering Group's Entertainment Division, has spent roughly 15 years engineering high-end shows from Super Bowl performances to Lady Gaga concerts.
Gorlin said he is trying to get states and localities to adopt standards that would set building codes for how much temporary structures — like the stage that collapsed Saturday — can handle. Factors such as wind-load — a measure of how much a stage can handle before it is blown over — should be accounted for by state and local officials, he said.
Gorlin also worked on a panel established by the American Society of Engineers to look at what standards should be used for temporary structures like stages.
Most of the building standards used by the entertainment industry require the development of weather-management plans and set guidelines for whether parts of a stage can be dissembled or broken down.
Ruling said he would prefer the industry adopt the PLASA standards and police itself, but said it would be acceptable if states adopted PLASA standards. He said he's against states writing their own codes, saying lawmakers can't do as good a job as those in the business.
The search for answers in Saturday's accident was almost certain to last for months.
The Indiana Occupational Safety and Health Administration took nearly five months to investigate the death of Declan Sullivan, a University of Notre Dame student who was killed when the hydraulic lift he was using to film football practice was toppled by a 53-mph wind gust.
IOSHA spokesman Chetrice Mosley said investigations must take into account many variables.
"When we do an investigation, it's across the board. We look at the structure, the blueprints and all of the companies involved. We do interviews with employees as well as spectators, and we'll work closely with state police," she said. "So there are a lot of areas that we review before we make a determination."
The fair reopened with a memorial service to honor the victims of the collapse. It canceled two of its top-billed concerts scheduled for the stage where the collapse happened — a Janet Jackson performance on Wednesday and a Lady Antebellum show on Friday.
Gov. Mitch Daniels said the tragedy has broken the hearts of the state's residents.
"Our first job is to get back in the business of living, get back in the business of the state fair and back in the business of caring for each other," he said.
___
Please enable JavaScript to view this content.