On the first day of ISTEP testing this spring at H.L. Harshman Magnet Middle School, a student walked into the testing room with writing on his hand.
Fears of cheating gripped staff members who noticed the ink-stained hand. But the writing wasn't answers, just a small motivational word—"Pass+"—the highest designation a student can achieve on the high-stakes statewide test.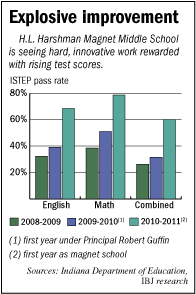 On the last day of school, custodian Luster Oliver was surprised to see graffiti on the walls, because there had been virtually none all year. It said, "I love my school."
"This is a special place," Principal Robert Guffin said. "There are a lot of reasons it's that, but I think it's that because everybody wants it to be."
Staffers at Harshman love to tell those stories. The first middle school within Indianapolis Public Schools to receive magnet status was marked for turnaround by Superintendent Eugene White in 2009, and has shown dramatic gains on statewide testing since then.
In 2009, just 26 percent of the school's students passed both the English and math sections of ISTEP. This spring, 65 percent of seventh-graders and 51 percent of eighth-graders passed both sections. Both grades outpaced state averages in math, with seventh-graders passing at 78 percent and eighth-graders at 80 percent.
White said the school used a federal turnaround model requiring 50 percent of the staff and the principal to be changed. In 2009-2010, incoming principal Guffin spent a year observing and preparing for the magnet program. He then interviewed for every position for the following year.
Students are required to spend at least two hours per week in after-school activities and teachers are strongly encouraged to do the same. Guffin noted the band grew from 10 students to 75 by December, and other extracurricular activities saw gains.
Also, students who fail multiple classes, drop below a 2.0 grade point average, or encounter multiple suspensions run the risk of being removed from the school.
The school's turnaround came despite difficult socioeconomic factors often cited as reasons for poor student performance. Eighty-nine percent of Harshman students receive free and reduced lunches.
Magnet programs draw from all over the district for a more rigorous, focused curriculum. Harshman focuses on a science, technology and engineering curriculum, and also has a foreign language magnet.
"When people say that we haven't had success in turning around schools, that's completely false," White said, noting Crispus Attucks Medical Magnet High School has seen 100- and 98-percent graduation rates the last two years.
"It demonstrates also what our students can do when they have the effective leadership and teaching be in a place where the focus is on education instead of distractions. All of those things come together at Harshman."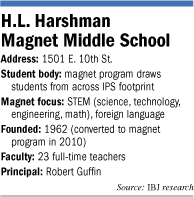 School turnaround expert Bryan Hassel, co-director of education research firm Public Impact in Chapel Hill, N.C., said top urban schools have strong leadership that sets high expectations for students, exceptional teachers, a lot of freedom, school-level funding control and intense accountability.
Hassel said Harshman isn't a true turnaround, because two-thirds of the eighth-grade class was different from the previous year, but it is a success story, nevertheless.
When Guffin was interviewing candidates for the current staff, he looked for commitment to students, instructional focus and how each candidate fit into a group. Twelve of the 23 full-time teachers came from the Teach for America and Indianapolis Teaching Fellows programs.
Teach For America, a federally funded program, trains youth to spend at least two years teaching in high-poverty schools. Indianapolis Teaching Fellows is a Marian University program designed to transition mid-career professionals or students into a career of teaching in Indianapolis-area schools.
Harshman administrators and teachers say a unified vision provides consistent expectations and a collaborative spirit.
Teacher Ben Palicki said the school "feels like everyone is doing their absolute best in order to help students achieve the very high standards that we set."•
 
Please enable JavaScript to view this content.