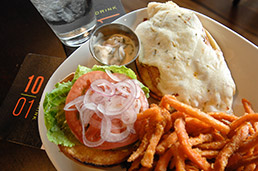 Think cheese has no place on fish? Then try 10-01's Blackened Catfish Sandwich. The essential side is sweet potato fries. (IBJ Photo/ Perry Reichanadter)
You may drive past 10-01 Food & Drink (1001 Broad Ripple Ave., 253-1001) a few times before you realize that it is, in fact, a restaurant and before you figure out how to get to it.
Oh, sure, there's a prominent patio overlooking Broad Ripple Avenue, but a St. Vincent branch has greater signage on the building and the main entrance to the eatery is around the back.
On my first visit, the Café's Cowboy Caviar ($7) overdid the olives at the expense of the peppers and cilantro in its attempt to vary the Mexican dip formula. And even eating only a fraction of it, we had to ask for more corn chips. Grilled Cheese Nostalgia ($8), with a heavenly blend of cheddar and havarti on sourdough, was much better, but would have improved with a larger portion of the tomato soup dipping sauce. My advice: Pair it with an actual bowl of the delicious bisque.
One bite of the 10-01 Outside In Burger ($9), another in the trend of stuffing the cheese inside the meat, quickly turned my plate into a reservoir of cheesy grease. My top-notch sweet potato fries barely were evacuated in time to avoid the flooding. A good thing, too, since the fries are potential award-winners that should find their way to the side of any 10-01 offering.
On a second visit, I wasn't enamored with Café's Corn Chowder ($3, $6), which was heavy on the sour cream, and the Chicken Wings ($8) were satisfying but unexceptional in an adobo buffalo sauce, with blue cheese slaw taking the place of celery or
carrots. The thick former swimmer at the heart of the Blackened Catfish Sandwich ($9) was light on the blackening, but accented nicely by a Thai-influenced sriracha tartar sauce and pepper jack cheese (yes, the cheese-and-fish combo doesn't have to taste like a Filet-o-Fish). Sliced almonds in the House Salad ($3/$6) and jalapeno corn croutons in the Café's Caesar ($4, $8) indicate a desire to mix things up a bit—but not too much.
That hesitancy might be part of the reason why, just a few days later, I'm having trouble recalling the experience of this handsome-but-not-yet-memorable newcomer.•
__________
Third in a month-long series of reviews of new arts district eateries.
Please enable JavaScript to view this content.