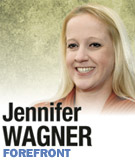 We're within 100 days from this year's municipal election, and the candidates already are talking about some big stuff: infrastructure, education, jobs, our police force and impending budget cuts, to name a few.
I have confidence the debate will be robust and spirited.
It probably won't include one important topic that's been kicked around for almost a decade: the construction of a public safety facility to replace the piecemeal components currently in operation.
The obvious reason I don't expect to see this issue discussed is because it is a very expensive proposition, and we're a tad short on cash. A 2004 study pegged the cost of a new courthouse at $250 million, and that figure has almost certainly gone up.
Still, I'd argue that we should figure out a way to finance and execute this project within the next 10 years both to centralize the many moving parts of our judicial system and to spur transformational economic development in a critical downtown quadrant currently defined by the Marion County Jail and dozens of bail bondsmen.
If you've ever dealt with the local courts, you know that nothing is particularly easy to find or logically laid out. Courtrooms and offices are tucked throughout the City-County Building. Offenders in orange jumpsuits and handcuffs are led through public areas. Yet neither the Prosecutor's Office nor the Public Defender Agency is there. We have a separate facility where we process the newly arrested, and we house inmates at three other, crowded locations.
It's patchwork at best, hugely inefficient, and we've spent too many years piecing together short-term solutions to a serious problem that grows with our population.
The other reason to act soon is to spur redevelopment around the City-County Building and existing jail facilities.
Downtown growth over the last decade has brought life—and permanent residents—to the once-sleepy core of the city. We're not running out of real estate yet, but we should keep up the momentum.
Consolidating judicial functions in one location would free up land near Conseco Fieldhouse to attract company headquarters and expand mixed-use development that could bring even more residents and businesses to the heart of Indianapolis, pumping up the tax base and completing the vision of a thriving downtown.
To be clear, I'm not proposing moving the public safety facility to the edges of the county. The new facility needs to be close enough to downtown for police officers, attorneys and others who work within the system to make the commute.
I'd propose building it on a piece of land close to downtown, perhaps in one of the more industrial areas along Interstate 70 near the airport. There are places hard hit by the economic downturn that could benefit from the construction of a large, state-of-the-art facility and the jobs it would bring to the community, not to mention a needed public safety presence.
If my public safety pipe dream ever becomes reality, I hope officials will take the time to build something that can last for decades and house all the existing components—with room to expand.
Now, how do we pay for it? That's been the multimillion-dollar question for years.
When it comes to critical government services, I generally shy away from public-private partnerships, but I wonder if there's a way to finance construction of the facility that benefits both the county and a private partner.
I know this is a long-term vision. It's been studied and studied and studied again by bipartisan teams of consultants and elected officials.
Our current infrastructure can probably operate for years to come, and taxpayers always get nervous about big investments, but if we want to continue building a thriving city, we need to contemplate making big changes that will improve the lives of those who work in the system, those who call Indianapolis home, and those who visit our downtown as guests.•
__________
Wagner is a lifelong Indianapolis resident who served as deputy director of public affairs at the National Nuclear Security Administration. Send comments on this column to ibjedit@ibj.com.

Please enable JavaScript to view this content.