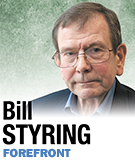 How to better get from Indianapolis to Evansville has been written about, debated and feasibility-studied for nearly four decades. The options are to use Interstate 70 and a U.S. 41 upgraded to interstate standards or to build a "new terrain" route.
New terrain has the obvious advantage of being shorter. But the I-70/U.S. 41 alternative is about a billion dollars cheaper because I-70 already exists and U.S. 41 is already four lanes and lightly traveled in large part.
Aside from about a 12-mile bypass around Terre Haute and some work on a more crowded stretch just north of Evansville and a few interchanges, it doesn't require much makeover.
Also, environmentalists argue that I-70/U.S. 41 doesn't rip up forests and wetland like new terrain.
The decision would finally appear to have been made for new terrain. Construction is under way or contracts let for the first leg between Evansville and the Crane Naval Surface Warfare Center (Sections 1, 2 and 3).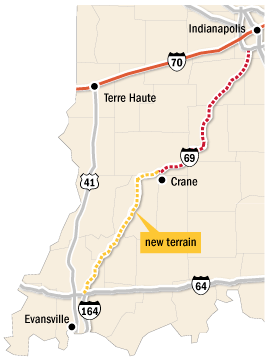 Decision made, case closed. Right?
Maybe not. Our leaders may have second thoughts about extending construction beyond Crane. Even at this late date, they might go for the cheaper I-70/U.S. 41 option. Here's why.
First, new terrain was always a horrible idea. It is shorter, but not as much as you might think. Only about 12 to 15 miles, saving about as many minutes of trip time.
That's not much gain for an extra billion bucks. How much traffic savings on those 12 to 15 miles of new terrain would it take to pay back the extra expense? The answer is startling. New terrain would have to average one vehicle every six sections in each lane 24/7 for the next 30 years.
Interstate 465 is the most heavily used interstate in Indiana, and it doesn't average that much. Rush hours, yes. But rush hours are 20 out of 168 each week. You also have to average in those 3 and 4 a.m.'s.
Second—and surely of more interest to our legislators—Section 4 of new terrain from Crane to Bloomington is hugely expensive. The terrain is hilly; construction is difficult. Major Moves money from leasing the Indiana Toll Road is nearly gone. It financed most of sections 1-3.
Section 4 will now start sucking up state gas tax money—over $400 million. That's the stuff that pays for pet local road and bridge projects. When our legislators find out what this will do to their pets, well, I don't want to be in the room.
Better to stop new terrain at Crane. Even with the money already sunk in new terrain, I-70/U.S. 41 is the superior option. Leave the pretty trees and wetlands of southwestern Indiana alone.
On this one I'm—gasp, charge admission—in bed with the tree huggers.•
__________
Styring is an economist, a former Indiana Chamber of Commerce lobbyist, and a former senior fellow at the Hudson Institute. Send comments on this column to ibjedit@ibj.com.

Please enable JavaScript to view this content.