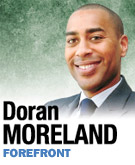 I love politics and sports perhaps equally, but for different reasons. I have to admit my love for one is being challenged. Sports can be painful, but always fun to do and watch. Politics lately is just plain painful.
Our Indianapolis Colts have returned to Anderson after a long and at-times-tumultuous summer. Despite disagreements over pay and working conditions, confidence remains in our team's ability to return to the field with the focus for a successful season.
Our members of Congress have returned home for their August recess, and I'm thinking it might not be a huge loss to have some of them sidelined due to the political equivalent of a blown ACL or pulled hamstring. The performance of our representatives is simply unacceptable. It gives further proof to our supporters that the United States is losing its way, and it provides validation to our detractors that the U.S. is becoming a hobbled leader.
The debt-ceiling debacle was no phenomenon. Instead, it was the latest, plainly visible display of dysfunction within Congress. In fact, the toll from gridlock and gamesmanship stretches much further. We're missing successful legislation to create jobs and comprehensive energy legislation to boldly guide us beyond fossil fuels. There is inaction on immigration reform, leaving states and cities to largely fend for themselves.
Additionally, this Congress has failed to accomplish basic tasks like addressing President Obama's federal appointments. According to The New York Times, Obama has had 97 of his judicial nominees confirmed—compared with 322 for George W. Bush and 372 for Bill Clinton. Although these presidents served two terms, this Congress is not on track to match the previous Congresses in this category.
While we fend for ourselves amid high unemployment, increasing health care costs and rising fuel prices, our federal representatives are checked out and consumed with games that slow progress and often don't reflect priorities of constituents back home.
Congress's dismal performance also has global implications. Amid an unfolding European financial crisis, our global economy desires rational, sober-minded decision makers from the world's only superpower to bring stability and reassurance to our markets.
Instead, we are witnessing antics from neophyte legislators who prefer symbolism over responsible governance. Their actions have further destabilized global markets and showcased our federal government's dysfunction for the entire world to see.
When will Congress learn that the majority of Americans aren't concerned about fights over hot-button political issues? I'm struggling to understand when our Republican and Democratic leaders will see that people are looking for legislators focused on real results, who work on policies that improve life back home, and leaders who have too much respect for the people they serve to settle for recalcitrant my-way-or-the-highway behavior.
There are basic realities that must be addressed by our leaders. Americans need to be talked to honestly about the costs associated with running a top-tier nation.
Sometimes it is simply necessary to raise taxes in order to meet our obligations, maintain our infrastructure, defend our soil, and prepare our young people for quality employment in a 21st century economy.
Second, being the sole superpower in an interconnected world requires thinking beyond our domestic interests when deciding policies dealing with money and otherwise.
Finally, leadership in perilous times requires prudence and seriousness, not platitudes and games. Times are tough and we need serious leaders to help move our country ahead.
Although we have serious problems, there is no place better than the United States. Although our nation is far from perfect, we can certainly do better than this.
Our members of Congress have rightfully earned their record-setting 82-percent disapproval rating, so they can only go up. As our congressional members return home during August recess, please let them know that we expect and need more from them.
It's time to put team America ahead of narrow political interests.•
__________
Moreland, a businessman, has served as a senior aide to former U.S. Sen. Evan Bayh and as a special assistant to former Mayor Bart Peterson. Send comments on this column to [email protected].

Please enable JavaScript to view this content.