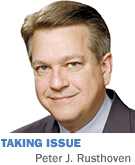 GOP state Rep. Phil Hinkle's hotel-room encounter with an 18-year-old boy seeking a "sugga daddy" is a recent, sad example of a common tale.
Since at least the mid-1960s, when U.S. House Ways and Means Committee Chairman Wilbur Mills was drunk at the Tidal Basin with stripper Fanny Foxe aka The Argentine Firecracker, such stories emerge with some frequency. Hinkle's resembles that of Rep. Bob Bauman, R-Md., whose promising career ended in 1980 after he solicited a 16-year-old male prostitute.
In many ways, there's no pattern. Protagonists are Republican and Democrat, straight and gay. Subsequent political fates vary unpredictably.
In 1983, for example, Reps. Dan Crane, R-Ill., and Gerry Studds, D-Mass., were censured for consensual sex with 17-year-old congressional pages. Crane's encounters with a teenage girl led to his 1984 defeat. Studds, on disclosure of his relations with a teenage boy, announced he was gay and was re-elected until his 1997 retirement.
After his 2007 arrest for soliciting an undercover cop in an airport men's room, Sen. Larry Craig, R-Idaho, hung on until the end of his term but then left.
In our state, U.S. Rep. Dan Burton, a Republican, has been re-elected repeatedly since his 1998 revelation of fathering an illegitimate child. Last year, U.S. Rep. Mark Souder, a Republican, resigned immediately on confessing an affair with a part-time staffer.
This June, Rep. Anthony Weiner, D-N.Y., whose "sexting" was more frequent, explicit and (there's no other word for it) creepy, fiercely fought resignation till yielding at last to party pressure.
Champion survivor is Rep. Barney Frank, D-Mass., whose relationship with a male pimp and prostitute came out in 1989. Frank fixed over 30 parking tickets for his partner, who ran a prostitution ring out of the congressman's apartment until Frank ended the affair. Though censured (and urged to resign by the liberal Boston Globe), Frank won in 1990 and became one of the House's most powerful Democrats.
For all their variety, these and dozens of other stories share a common theme: A male politician risks his career for reckless sexual conduct. Why?
The Indianapolis Star's Matt Tully, in thoughtful columns on the Hinkle story, quotes him as responding, "I honestly don't know" to the question, "What were you thinking?"
My late father would have told him, bluntly but not unkindly, "You weren't." My dad, while never crude, warned that men at certain times had no brains and no conscience. Many of the male species have moments when they seem determined to prove the point through their own foolishness.
A half-century into the "sexual revolution" launched in the 1960s, we remain self-congratulatory on our superior "openness" and "honesty" about sex compared with those who came before. Maybe we sold our predecessors short.
Earlier generations understood human sexuality as well or better than we do. They were unquestionably more aware and insightful and realistic about its power over human conduct. They understood human nature is weak, and that—in the sexual realm as others—self-discipline needs societal reinforcements in the battle against indulgent, self-destructive behavior.
Those reinforcements, including public embarrassment and social disapproval, have weakened but not disappeared. They need strengthening. If we want fewer Phil Hinkle stories, then "not resigning" should not be an option.
None of this is about personal condemnation. My few interactions with Hinkle have been good, involving his asking for help for others. I pray for him and his family. My own mistakes have been plentiful. And another of my father's lessons, oft repeated, began, "There but for the grace of God go I."•
__________
Rusthoven, an Indianapolis attorney and graduate of Harvard College and Harvard Law School, was associate counsel to President Reagan.
Please enable JavaScript to view this content.