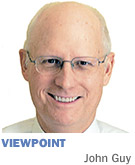 An Indianapolis Public Schools teacher was overheard saying, "Why should I improve myself through advanced professional training when the state and its providers will fire me next year?"
We humans are thoughtful, ambitious, easily hurt and motivated by both economic gain and pride. Imagine the personal circumstances of hundreds of people who administer and teach at schools taken over recently by the state. These people support families, but have no job security. They have taught hundreds of students, but now their pride, professional reputations and sense of accomplishment are placed on the public pyre by a more-than-10-year effort to blame them for low standardized test scores.
Teachers have been subjected to both direct and indirect public criticism. Indirectly, reform movements that encourage transfers to private and semi-private schools are declarations that "somebody else can do it better." Directly, in Los Angeles, teachers have been ranked publicly according to test scores of their students, and a similar disclosure could take place in New York City.
Perhaps the top 20 percent feel good about it, and the middle 60 percent accept. The problem is the bottom 20 percent whose careers are subject to question, whose spouses and children wonder about them, whose students feel less confidence and loyalty, and become more disruptive because they have been told their teacher is low-ranked. That 20 percent represents thousands of teachers, teaching tens of thousands of children.
Do we blame the branch managers and clerks of Borders for the failure of their company?
Do we criticize the local operatives of Blockbuster for that company's failure to create Netflix and streaming? Were these employees ever ranked in public, and their performance criticized in local newspaper editorials? Do we publicly rank the effectiveness of state police, state police branches, Department of Revenue personnel, or the governor's or Department of Education's staff? Do our media publicly rank the effectiveness, accuracy and communication skills of reporters and editors? No one is publicly ranked—with good reason—except teachers, for weak reasons.
Effects of school closures, firing administrators and proposed reforms are both certain and uncertain. The certainty is that teachers and students working for listed institutions have no security, low morale and decreasing pride. The teachers are economically insecure, and their students are told by state authorities that their schools are not up to par, that they are receiving inferior educations.
This generation of students is given an excuse for poor performance. It is not their fault; it is the fault of their school. They also do not have a joy of the youthful experience: school pride. These effects are certain.
Uncertain is the long-term reforms. No one can say, with certainty, that a proposed reform will improve education. The thinking is theoretical, based on predictions, not on experience. The hypothesis that replacing teachers will do the job is pie in the sky because every replacement teacher will face the same cultural and economic challenges met by their predecessor.
Observing how previous teachers were treated, new ones will carry doubt in their hearts: They will think, "Could this kind of review and attack happen to me?" Of course it could. I would not take a job in this kind of non-supportive environment.
A few years ago, an ambitious executive fired 20 of the 100 branch managers in a region of my firm. He was considered creative and tough. Two years later, no fundamental business element had changed. He merely put 20 new people on the chopping block.
In a local not-for-profit, five executive directors served in less than seven years; each was dismissed or resigned out of frustration. The problem was not their effectiveness, creativity or people skills. The problem was that the job was impossible, the goals unachievable.
Teachers are not marks on a dart board. They are professionals. They are heroes, and deserve to be so treated and recognized. Teachers work hard for little pay. The state Department of Education should support them, encourage them. We should follow this rule: Give pride unto others as we would have them give pride unto us.•
__________
Guy is a certified financial planner, a private investment manager and author of "Middleman, A Broker's Tale." He has no children in school, no economic connection with Indianapolis Public Schools, and no friends who are teachers vulnerable to dismissal.
Please enable JavaScript to view this content.