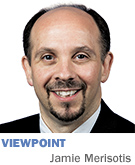 With book bags loaded and anxious parents at the bus stop, we celebrate the annual back-to-school ritual. This year, parents may have more reason than ever to be anxious.
We stand at a difficult point in our state's history. Mounting national economic woes, a flattening in the numbers of Indiana college students, and record tuition costs here and in other states have combined to threaten our economic prosperity.
There are roughly 76,000 entering college students in the state, according to the most recent figures from the Indiana Commission for Higher Education. With only 33 percent of Indiana's nearly 3.4 million working-age adults (25-64 years old) holding at least a two-year degree, Indiana fares poorly compared to the national average of around 38 percent.
And not coincidentally, the Indiana county with the highest percentage of degree-holding, working-age adults (Hamilton, at 63.6 percent) has one of the lowest unemployment rates (6.1 percent), while the county with the highest jobless rate (Fayette, at 12 percent) has one of the lowest percentages of college graduates (18.9 percent).
But does a college degree define success? And how do we know that Indiana's economy, in particular, will demand more college graduates?
According to labor economists at the Georgetown University Center on Education and the Workforce, 55 percent of Indiana's jobs will require postsecondary education by 2018. Between now and 2018, Indiana will need to fill about 930,000 vacancies resulting from job creation, worker retirements and other factors. Of these job vacancies, 506,000 will require postsecondary credentials, while only 424,000 are expected to be filled by high school graduates or dropouts.
This means we have fewer college graduates at a time of increased demand.
The outlook sounds gloomy, but we at Lumina see things differently. As the nation's largest private foundation committed solely to enrolling and graduating more students from college, we see tremendous opportunity in Indiana. That's why we are encouraging city leaders to join us in what we call Goal 2025. The goal is to ensure that 60 percent of Americans hold high-quality college degrees or credentials by 2025. It's an audacious goal, but it is absolutely crucial.
A recent Gallup survey commissioned by Lumina Foundation reveals that people appreciate the relationship between education, earnings and employment. Most Americans see a college degree in very practical terms, as a vital step toward securing quality employment and attaining financial security. Seven in 10 adults (69 percent) surveyed said having a college degree is essential for getting a good job.
According to the same Gallup/Lumina study, about half of Americans (53 percent) say the main reason students get more education is to earn more money and a third say it is to get a good job (33 percent).
Even with the recent wild gyrations on Wall Street, Americans still believe that the road to greater economic prosperity for themselves and our country comes through education. Businesses need and are requesting better-educated workers who can handle the demands of the 21st century workplace. This includes flexible and adaptive workers who have high-technology training, critical thinking and communications skills, and the capacity for working in teams—in short, the kind of skills and knowledge a college experience develops.
Higher education is critical to the prospects of millions of Americans. It's time to reaffirm the greatness of America's higher education system.
The good news is that America, including the great state of Indiana, is already well positioned in many ways. We have great colleges, promising growth sectors and a positive momentum that will likely propel the country to greater things. But nothing is certain. If our next chapter is going to read well, we must embrace a new frontier that's focused on graduating more Americans from college. Our future prosperity depends on it.•
__________
Merisotis is president and CEO of Indianapolis-based Lumina Foundation, the nation's largest private foundation focused exclusively on enrolling and graduating more students from college—especially 21st century students: low-income students, students of color, first-generation students and adult learners.
Please enable JavaScript to view this content.