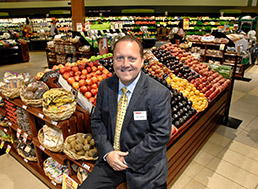 New Marsh CEO Joe Kelley says he's ready to spend what it takes to challenge Kroger. (IBJ Photo/ Perry Reichanadter)
Marsh Supermarkets is shifting into expansion mode with a plan to spend $60 million to build up to 10 new stores and remodel or rebuild several more over the next three years.

"Our appetite is back," said Joe Kelley, who took over as the chain's CEO in May. "This is the first step to prove to all the towns we trade in that Marsh is back and can compete with anyone out there. We just need to get our fleet up to date."

Kelley doesn't plan to stop there.

He's working on plans to redeploy the Marsh brand, reducing the chain's focus on the Food Club product line. Marsh stores within the next two years will offer more than 1,000 Marsh-branded products, up from just 100.

The Fresh Idea shopper loyalty program will get its first major revamp in years as the chain hopes to mine its customer data to reward loyal customers and entice lapsed customers to return.

Also on tap: A new pricing strategy that includes more sales and special offers. A triple-coupon offer on Memorial Day weekend brought in more than 10,000 new customers, Kelley said. And stores this month are getting new Catalina checkout coupon machines that help promote repeat visits.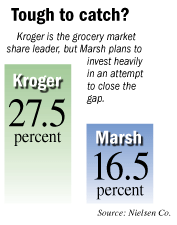 The ultimate goal: Make Marsh's stores as attractive and customer-friendly as those of its fiercest competitor and the central Indiana market leader, Cincinnati-based Kroger Co.

Kroger had a local market share of 27.5 percent in the most recent Nielsen survey, well ahead of Marsh's 16.5-percent share.

"If everything is equal and we have our best foot forward, the tie should go to the local player," said Kelley, 45, a 26-year veteran of the grocery business who visited several Marsh stores wearing jeans and a hooded sweatshirt before he took the top job.

His first impression: The stores were too dark and some were outdated, but the service and product quality were strong.

Kroger will be hard to catch. The chain spent more than $12 million each in recent years for new stores in Nora and at 71st Street and Binford Boulevard, and has expanded and remodeled several others.

"We will not be slowing our pace," vowed Kroger spokesman John Elliott. "We have made investments in so many of our stores in recent years, and we are pretty well aligned with customer expectations."

Marsh, which consists of 70 flagship Marsh stores and 27 smaller-format Mainstreet Market stores, remains profitable, but it has lost customers over the years to grocery competitors like Kroger, big-boxes like Walmart and Target that now offer groceries, and the fast-growing dollar stores.

"Our first goal is to get customers in the store," said Kelley, who previously was executive vice president at the 125-location, New York-based Price Chopper chain. "We have to be able to differentiate to get people to change their shopping habits."

The triple-coupon offer certainly helped. The chain posted its strongest quarterly sales since 2008 in the first quarter, which ended June 1. Same-store sales rose 3 percent after several quarters with flat to lower numbers. And the chain grew market share for the first time in more than three years.

Kelley declined to release specific figures because the chain is privately held, a portfolio company of the Florida-based private equity firm Sun Capital Partners.

Kelley said Sun Capital is in no rush to unload Marsh after it put the chain for sale a few years ago but failed to find a buyer. The firm typically invests with a three- to five-year time horizon and has owned Marsh since 2006.

"This is not a 12-month project," Kelley said. "It's a three- to six-year project."

Marsh is in the process of moving its roughly 250 back-office employees to its headquarters building in Fishers, consolidating from space in Yorktown and on Franklin Road in Indianapolis.

In August, it reached an outsourcing deal with C&S Wholesale Grocers Inc. to manage its distribution centers in Indianapolis and Yorktown, so Marsh could focus on the operation of its stores and interaction with customers.

The new stores will follow a prototypical supermarket footprint of 40,000 to 60,000 square feet, with a strong focus on fresh fruits and vegetables and service-oriented components including the bakery, deli and butcher.

Grocery chains like Marsh cannot survive by competing on price alone since just about every retailer from dollar store to gas station is selling food these days, said Jeff Weidauer, a vice president at Vestcom, an Arkansas firm that sells shopper marketing services to supermarkets. (Both Marsh and Kroger are clients.)

Marsh can differentiate itself by understanding and responding to shopper needs, offering information including the origin and nutritional value for the products it sells, recipes and wine pairings, said Weidauer, a 30-year grocery industry veteran who also writes an industry blog called "The Shelf Edge."

"You need to be clear about who your target customer is," Weidauer said. "Anybody can cut price to buy sales. The question is, how long can you afford to buy those sales?"

He said Kroger has set a high-water mark with its Kroger Plus rewards program, but it's not unusual for grocery chains to skip the investments it takes to use loyalty data to drive sales.

One advantage of crunching loyalty data is the chance to offer better deals—like triple coupons—to a chain's best customers, said Katie Tingley, president of Toronto-based The Tingley Advantage, which analyzes data from loyalty programs and turns it into marketing opportunities.

Customers can be organized into categories based on what they spend and what it would take to get them to spend more.

"You don't want to market to the cherry-pickers who only buy stuff that's on sale," she said. "It makes sense to get people in the store, but you need them in the store for other things, too. I would do a triple coupon to some customers who have earned it."•