Mayor Greg Ballard wants to expand the city's airline service and create an assistance center for small businesses.
Challenger Melina Kennedy proposes launching mentoring programs for small-business owners and helping early-stage companies get access to funding.
Ballard
Both candidates for Indianapolis mayor are touting a host of ways to improve the city's business climate. Job creation is a perennial campaign issue, but the topic is getting more attention in the run-up to this year's Nov. 8 election as broad economic challenges persist.
Ballard, a first-term Republican, announced his economic development plans Aug. 24, and Kennedy, a Democrat and director of economic development under former Mayor Bart Peterson, plans to officially roll out her proposals Sept. 6.
Kennedy
Kennedy, an attorney, focuses heavily on recruiting entrepreneurs to the city, while Ballard pushes increasing Indianapolis' global presence and adding city features that will attract talented employees.
Some experts who reviewed the plans say focusing on growth of startups—as Kennedy does—is a better long-term strategy for creating jobs than trying to make global inroads.
"When you have resources of wealth and talent in the Indianapolis area, going the innovative route is the best way to see the city thrive," said Taylor Aldridge, a visiting professor at Indiana University's School of Public and Environmental Affairs who focuses on economic development. "While it's important—at least symbolically—to show international interest, it's probably more important to concentrate on coordinating local resources."
But others say Ballard's ideas for improving city amenities, such as providing direct airline flights to additional locales, would be more beneficial than Kennedy's proposals to assist startups, which, they say, would be tough for government to execute.
If expanded airline service could happen, "it could really move the needle," Kristian Andersen, who owns a local brand and design firm and co-founded the angel investment firm Gravity Ventures, said in an e-mail.
"It's a mistake to rely on programs in lieu of taking a more foundational approach to continuing to improve our city," Andersen said. "I would argue that having a vibrant music scene is every bit as important to attracting talent—and, by association, startups—to Indianapolis."
Stoking small business
Recent U.S. Bureau of Labor Statistics data show the Indianapolis metro area has failed to rebound from the economic crisis. Because of cutbacks at Eli Lilly and Co. and elsewhere, the area has 62,000 fewer people working now than it did when the recession began in December 2007.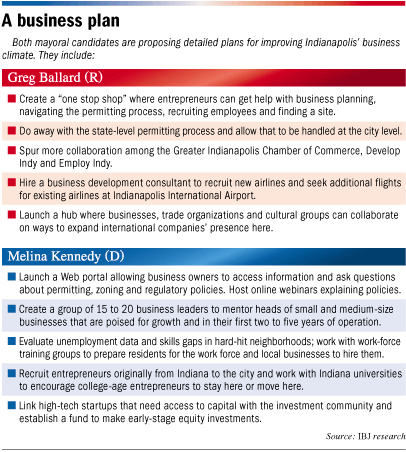 Ballard, 56, and Kennedy, 42, say part of the solution is recruiting companies to Indianapolis. They also say they'd work to support the needs of the city's largest companies.
But both say another key piece of their strategies is to improve the economic vitality of the city by helping small businesses thrive.
To do that, Ballard has proposed creating a center where entrepreneurs would work with experts to develop business plans, and get help with permitting and in selecting a site.
Kennedy has proposed forming a group of 15 to 20 business leaders who would be paired with young, growing companies to provide one-on-one mentoring.
While both efforts would make an impact, they don't go far enough to address businesses' more pressing needs, said Orville Powell, a former city manager in North Carolina and Florida who now teaches local government at Indiana University.
For example, many small retail businesses struggle to have the purchasing power needed to compete with big-boxes or lack the capital to fund startup costs, Powell said.
City government could own workspace for small businesses to rent, work with not-for-profits to provide support staff and equipment businesses could share, or connect companies that could pool purchasing, Powell said.
Amandula Henry, who runs the Irvington Development Organization, said a huge challenge for many businesses she works with—which tend to have fewer than 10 employees—is providing health insurance.
She'd like the city to use its bully pulpit to bring experts together to collaborate on those kinds of issues.
"It's not necessarily that new programs need to be created," Henry said. "Sometimes, small businesses need hand-holding. If you're a three-person shop, you probably don't have that support."
Both candidates say they want to simplify permitting.
Kennedy criticizes Ballard's move to fund services such as business licensing and code compliance by increasing fees for the firms that use them.
By creating a Department of Code Enforcement to handle those services and adding a local commercial plan-review process, she said, Ballard has added to the complexity and time involved in getting permits.
"The current administration has made it more costly and difficult for small businesses to grow here," said Kennedy, a 25-percent owner in the Blue Mile, a locally based chain of running apparel stores. "That shows a lack of understanding about what it's like to operate a small business."
Kennedy said she wants to review how the department runs, make information about how to navigate city regulatory processes such as permitting and zoning available through an online portal and hot line, and provide Webinars to train business owners.
Ballard said moving the services from several city agencies into a single department has made permitting more efficient. Increasing the fees, he said, moved the cost of those functions from the tax rolls to those who use them.
He's proposed eliminating the state-level plan-review process for commercial construction. That would allow those tasks to be handled only at the city level, which Ballard said would speed up permitting.
Powell, the former city manager, said easier permitting will help create a more positive business climate in Indianapolis, but it's unlikely to create new businesses.
Cumbersome plan review "is more of an aggravating and time-consuming issue," Powell said. "It's not going to keep any businesses that have a viable market from developing."
A startup culture
Kennedy is pitching programs for spawning more innovative companies.
They include connecting entrepreneurs with MBA students to help develop their business ideas, linking startups with potential to investors who can provide capital, and funding scholarships for young entrepreneurs.
She's also proposing launching a marketing campaign to draw entrepreneurs to the city and creating a fund that would invest directly in young technology companies.
Those kinds of efforts, experts say, can help lay the groundwork for establishing the kinds of companies that will grow quickly.
Aldridge, the IU professor, said the more pioneering the technology a company creates, the more staying power it has, because it's tougher for a competitor to replicate.
Pittsburgh employed a similar growth strategy in the 1990s under Mayor Tom Murphy, who helped shepherd the city's change from a manufacturing-based economy to a more high-tech one.
"We made a decision that we wanted a home-grown economy—to invest in small, growing companies," said Murphy, now a senior resident fellow at the Washington, D.C.-based Urban Land Institute.
The key to doing that was partnering with universities to capitalize on local talent and finding ways to provide venture capital, he said.
Ballard's plans focus more broadly on establishing a culture that, he said, will benefit all businesses, including startups.
He said he plans to hire someone to focus on attracting more airlines and adding flights at Indianapolis International Airport.
He also wants to push creating an urban environment that appeals to the young college graduates many businesses want to attract.
"Bike lanes and urban gardens are a big piece of what companies are looking for," Ballard said. "That's a big piece of creating the type of city young people want."
Cities that grow fastest tend to be the ones with a talented work force, said Christopher Berry, an associate professor of urban policy at the University of Chicago.
He said local governments should prioritize attracting and keeping the college-educated, whether it's through tuition-incentive programs or a recruitment campaign along the lines of what Kennedy is proposing.
"If I can know one fact about a city today that can let me know about its future, it's the college graduation rate," Berry said. "The cities that grow the most are going to be the ones with the most human capital."•
Please enable JavaScript to view this content.