The Indianapolis Bond Bank plans to refinance $200 million in bonds issued to build Conseco Fieldhouse and renovate the now-demolished RCA Dome.
The move, approved by the Capital Improvement Board at its Aug. 22 meeting, is expected to save CIB $8 million to $9 million over the life of the bonds, which will be paid off by 2027. The majority of that savings will come in the next two to three years, said Dan Huge, the board's CFO.
CIB is refinancing in part to take advantage of the current low interest rates. The board expects to lock in an average interest rate of about 4.3 percent, compared with the current 5.5-percent rate.
The refinancing also will eliminate the need for a debt-service reserve, which provides a cushion to bondholders in case revenue to pay off the bonds doesn't come in as projected.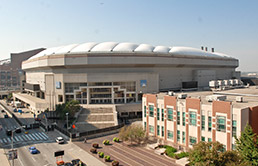 Although the RCA Dome was demolished nearly three years ago, bonds sold partly to pay for its 1999 renovation are still 16 years from being paid off. (IBJ File Photo)
The board previously had purchased bond insurance to cover its debt-service reserve, but the crash of the financial markets caused a downgrade in the insurance agency backing the reserve.
That came close to forcing CIB in 2009 to fund its debt-service reserve with cash. Instead, the board worked out a deal with the state's finance agency and the city bond bank to serve as a backstop in case the bond insurer couldn't make the payments. That allowed CIB to avoid paying the $25 million in cash.
Refinancing the bonds, Huge said, will relieve the state and city of obligations to back the board's bond insurance.
Not having a debt-service reserve will increase the interest rate CIB pays. But the overall effect will be inconsequential, since the board no longer will pay bond insurance or face the risk of cash-funding the reserve, said Deron Kintner, executive director of the city's bond bank.
The bond bank expects to sell the bonds Sept. 7 or Sept. 13 and close on the sale in early October.
Please enable JavaScript to view this content.