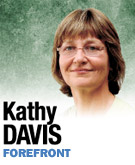 Dear John,
Thank you for running for governor of Indiana. To lead in these times takes so much confidence, in you and in us. May we seek what is real, look forward, find agreement, and act. May we prove ourselves to stand up and stand out.
I am a Democrat who wants to hear all voices, lift all boats, protect the earth and prepare for future generations to surpass us. I believe in thinking big about ideas and being practical in our plans. Big ideas about what we want to accomplish as a state and a country, and a separate plan for what government should do.
For Indiana to prosper, we need interesting work that provides value to the world. Good jobs growing food, making things, managing information and energy. Information transportation moves us within milliseconds of one another; lots of work can be done from anywhere in the world. People have to choose to live here—students have to stay after they graduate and people from elsewhere have to invest themselves here.
A good place to live starts with an atmosphere of welcome and truth, for all people that we are. We need a governor to champion equal rights and encourage us to meet our potential. We need to seek the facts, face hard truths and act intentionally for the long term.
You can build on our strengths as growers and makers, blessed with good soil, plenty of water, a central location and a respected work ethic, and make us leaders in energy, education and information.
We know that government doesn't grow the jobs, enterprises do. We know, too, that government's influence on Indiana's economy is big and not going away. As provider of security, education and transportation services, builder of infrastructure, regulator, buyer and tax collector, government has many roles to get right in facilitating Indiana's prosperity.
• Indiana needs to understand our economy within the world economy, map our likely opportunities, and link back through the design of our education and skill development.
• Indiana has been changing K-12 education from the outside in, offering more choices and stimulating innovation. Let's also work from the inside out—like Teach Plus. Let's empower teachers, give communities real-time information that helps them respond to their schools, connect student performance, teacher pay and school funding. Let's not put poor performers in administrative roles and then pay them to slow down the improvement process. Let's not keep teachers who aren't good at teaching.
• There are ever more techniques and technologies for learning new skills. Let's pioneer the good ones, like Western Governors University Indiana.
• Indiana has lots of coal and a low cost of electricity. We've had success removing sulfur from coal emissions, only for carbon to become the problem. We need to garner energy from carbon without releasing carbon. And develop new sources of electricity with the methods to capture, store and distribute it.
• Indiana needs high-capacity, secure information transport, redundant storage and recovery and reach throughout the state. Good digital connection in rural areas can help leapfrog to new economic opportunities.
• We must enable work and independent life in the design of personal support services. The human service system must fill the gaps, not take over a person's life. We must eliminate financial penalties for work. We must not crowd out real life with our rules.
• People need health care that is affordable and improves health. Indiana needs to design a health care exchange and supporting practices so that savings in the emergency room and from less chronic disease are captured for more preventive care.
Working with Gov. Joe Kernan, Mayor Bart Peterson, Gov. Frank O'Bannon and Gov. Evan Bayh, I learned respect for the citizen and taxpayer. I learned about big ideas and conservative plans, energy and focus. Facts are friendly for tackling whatever comes—with fiscal discipline and teamwork. Lasting hope comes from success.
Please John, bring it on.•
__________
Davis is a former Indiana lieutenant governor who owns and operates the Indianapolis technology firm Davis Design Group LLC. Send comments on this column to ibjedit@ibj.com.

Please enable JavaScript to view this content.