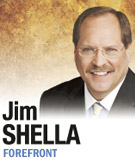 Phil Hinkle wanted to be taken seriously. At a committee hearing a few years ago, he was testifying on a local government reform proposal and announced to the crowd in the House chamber (and on the Internet) that he "knew more about local government than anyone else in the Statehouse!" It was the answer to a question no one had asked. He said it twice.
In his position as a state legislator, Hinkle could be a bit of a bully. He liked being a committee chairman and enjoyed being able to stop legislation he didn't like. Former Democratic Mayor Bart Peterson failed in efforts to convince Hinkle to approve the consolidation of fire departments in Indianapolis. Republican Gov. Mitch Daniels failed to win permission from his fellow Republican to eliminate township government.
But he also was recognized for an ability to get things done. His name was in the conversation when vacancies popped up in the state Senate and in Congress. He appeared to have a solid, if not bright, future in Indiana politics. That is, before a Pike High School student told the story of Hinkle answering an ad on Craigs-list and promising to pay him for a "really good time." If you don't know the rest of the story, you can look it up.
But here's the conclusion: Hinkle has to go.
In the time since the story broke, I've had people ask if there was any talk about Hinkle's private life before the story hit (I heard none) and if people were surprised by the news (everyone I talked to was flabbergasted). But I've also had a lot of people ask if the behavior is something more likely to occur with politicians.
They point to sex scandals involving former New York Gov. Elliot Spitzer, former congressman Anthony Weiner, and even former Indiana BMV Commissioner and former legislative candidate Andy Miller.
My answer is maybe. Maybe there is a risk-taking, attention-seeking part of the personalities of some politicians that causes them to pursue illicit thrills at a higher rate than the rest of the population. But there is no real evidence of that.
In fact, the Hinkle case caused some of us to scour our memories for recent sex scandals in Indiana government and, aside from Miller's, there are few to be found. You have to go back to the early 1990s and the very public affair that took down then-Hoosier Lottery Director Jack Crawford to find something that led to the kind of headlines Hinkle created.
And the last I checked, folks from all walks of life hire prostitutes and use Craigslist to find secret hookups. It doesn't make the evening news.
The reason we know about Hinkle and the others is because they were elected to office. They held themselves up as leaders and examples and asked us to hold them to a higher standard. That's why we should know about them and their private behavior even while it's OK to look the other way if similar behavior is that of, say, a life insurance agent.
Now, Hinkle is the subject of jokes, not just in the Statehouse, or on golf courses and in bars in central Indiana, but on national television. Talk show host Conan O'Brien told this one: "Republican congressman Phil Hinkle, who voted to ban gay marriage, was caught propositioning a male prostitute. Hinkle said, 'Well, I wasn't going to marry him.'"
Never mind that Conan got the title wrong. He was right about the voting record and, most important, he got a laugh. It was ranked on one website as one of the top 10 jokes on late-night TV that day.
Did you hear the one about the guy who plans to go to a Halloween party dressed as Phil Hinkle, wearing only a towel?
The man who so desperately wanted to be taken seriously is a punch line.
That's why Phil Hinkle has to go.•
__________
Shella is WISH-TV Channel 8's political reporter as well as host and producer of the Emmy-nominated "Indiana Week in Review." Send comments on this column to ibjedit@ibj.com.

Please enable JavaScript to view this content.