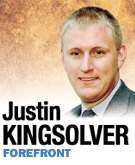 Across Indiana, a mass migration of students has moved to Bloomington, Evansville, Lafayette, Terre Haute and Indianapolis as classes resume at Indiana's great universities. These times of excitement have been somewhat marred for Indiana students and families because of the astounding costs associated with sending a child to college.
And those costs continue to rise.
After the Indiana Commission for Higher Education recommended Indiana's colleges and universities not raise tuition and fees more than 3.5 percent, two of Indiana's largest universities—Purdue and IU—hiked tuition 4.5 percent and 5.5 percent, respectively, continuing a decade-long tradition of raising student fees on both in- and out-of-state students.
Compounding the pain felt by Hoosier students and parents, the average college student pays close to $500 per semester to purchase textbooks and, often, purchasing used books is not an option as a result of professor preference or slightly altered "new editions."
Rent in college towns is too high. My own parents were astounded to find out that small houses—many 2,000 square feet or less—often cost students $3,000, $4,000 or $5,000 per month to rent, far exceeding even pristine properties in downtown Indianapolis.
While a diatribe complaining about the price of attending college is predictable from a university student, all of Indiana's citizens—especially leaders in the legal, political and corporate communities that frequently read this publication—should care.
Burgeoning costs of attending Indiana's public institutions of higher education provide disincentives for our graduating seniors—and their families—to attend college. When this individually driven decision becomes commonplace, a macroeconomic reality must be addressed; when an Indiana student chooses to forgo college, our collective work force loses human and knowledge capital.
Businesses considering relocation to Indiana consider a variety of factors: the tax climate (which Gov. Daniels has made great strides in improving), access to resources, availability of amenities (great public schools, entertainment, etc.) for employees and the quality of the state's work force. We must do everything within our power to ensure that none of those factors is in question by employers, or our escape out of this recession may be much murkier.
Additionally, higher education is, in many scholars' opinions and in mine, the most effective way for an individual to escape the cycle of poverty. Many of our state's communities face wide-scale problems with poverty, and all have many bright students hoping to overcome those challenges to incite changes in their communities. For leaders across our state to contribute to putting a college diploma out of reach for those who need it most is a social injustice.
Solutions abound to ease the discomfort faced by students and parents confronted with higher costs of college attendance. First and foremost, when large-scale budgetary decisions are on the table—from capital priorities to building decisions to tuition increases—all relevant groups (parents, students, government leaders and university administrators) should be consulted before making any drastic decision. Those who pay tuition across this state have been considered blank-check writers for too long; if students and parents are going to be asked to pay more, we deserve input into our universities' fiscal priorities.
Second, this legislative session, the student governments of IU, Purdue and several other institutions across our state—along with a large coalition of state legislators and interest groups—will be advocating for a tax-free holiday for textbook purchases, which would allow students to purchase course textbooks without sales tax. That initiative would accomplish two major goals: obviously, lowering education costs for students and families; and keeping textbook dollars in-state rather than motivating buyers to evade taxation through online textbook retailers.
Whatever the solution, something must be done.•
__________
Kingsolver, a Fishers native, is a senior at Indiana University majoring in political science, international studies and business management. He also is student body president and the former state chairman of the Indiana Federation of College Republicans. Send comments on this column to ibjedit@ibj.com.

Please enable JavaScript to view this content.