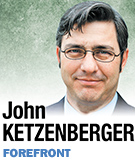 I went back to Auburn last weekend to see the old cars. Turns out I may have glimpsed the future.
Many Labor Day weekends have passed since the last time I stood along Jackson Street to watch gorgeous machines roll by. Sleek Auburns with their bright boattails seem to sashay. Late-model Cords, coffin-nosed and front-wheel-driven. Regal Duesenbergs so powerful you genuflect as they pass.
My son Adam and I pointed out paint schemes and hood ornaments that caught our eyes. Our ears liked the low rumble of straight-eight motors with cast iron blocks and thick steel exhausts. Most teenagers aren't much into cars aside from being a means to get from Point A to Point B.
Cars reflect their eras. Look around on the highway and most of the cars you'll see are pretty utilitarian. They look like rectangles with efficient and reliable drivetrains that require only routine maintenance to ensure long life.
In this Technicolor world, our transportation's pretty dull.
Then I started to tell him about Errett Lobban Cord, the young and brash Missourian who built a transportation empire on the eve of the Great Depression. The Cord Corp. controlled companies that built these beautiful cars, aircraft engines and ships. It operated American Airways and the Checker Cab Co.
And it all came crashing down in 1937 amid economic chaos and a whiff of insider-trading scandal. Cord lost his fortune in a Chicago courtroom and then blew out of town for Los Angeles and another fortune in media and mining. Later, he confounded critics by becoming a consensus-building state legislator in Nevada, a lock for governor who took a pass on election.
Cord's story is as colorful and complex as the cars that paraded before us up the street. It occurred to me, again, that the shrinking globe seems to produce diminished characters.
I mean, really, we're all worked up by the tit-for-tat between President Obama and Speaker John Boehner over when to give a jobs speech? Are we so war-weary, economically ravaged and un-civilly discoursed that we just don't care?
Time will tell.
As I told Adam the last part of Cord's story, we happened upon several of this year's featured cars, the 1936 Cord 810. These babies were an exclamation point to the story.
Even as Cord's company was being swamped, he pushed for cutting-edge style and technological advances. In 1934, acclaimed designer Gordon Buehrig, who envisioned beautiful coaches for Duesenberg and voluptuous fenders for Auburns, put his imagination to work.
Before long, the first 810s rolled off the Connersville assembly line and into history. The 810's streamlined styling eliminated running boards, hid the headlights and even the radio antenna. Inside, the dashboard was brushed aluminum with gauges arranged to look like a fighter plane's instrument cluster.
The car's V-8 motor turned a front-wheel drive transmission that used an unusual pre-select gear shifter. The 810 and its first cousin, the 812, lasted just two model years before the Cord Corp. disappeared. Their effect on the market, however, was profound.
"Buehrig's masterpiece contained two rare ingredients: a recklessly dramatic modernism and a fundamental, knowing sense of form," noted a history of the car published by the Auburn Cord Duesenberg Museum. "The appearance of the Cord in November 1935 shook the automotive world at its foundation. Largely through simplicity and refinement, Buehrig's work evoked the very synthesis of art deco style, the dreamlike glorification of the Machine Age."
Now that's what I'm talking about: big and bold and risky. The company flamed out, but the car still inflames passion. It's a timely reminder to ignore those who would rather hunker down, avoid risk and ride out the economic storm.
C'mon, let's put our imaginations to better use than that. Past is prologue. Better times are ahead if we have Cord's courage and a little of his chutzpah.•
__________
Ketzenberger is president of the Indiana Fiscal Policy Institute, a not-for-profit dedicated to non-partisan research into the state's tax policies and budget practices. Send comments on this column to ibjedit@ibj.com.

Please enable JavaScript to view this content.