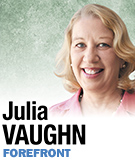 I recently attended a Marion County Election Board meeting held to take public testimony on whether the board should operate satellite locations for early voting this year. Common Cause/Indiana has long supported efforts to make voting more accessible and convenient, so I was eager to add our voice to the chorus of many who support ways to adapt voting and civic participation to the 21st century.
What was disappointing about the meeting was that it even happened. Satellite voting locations have been used in county elections and not only did the sky not fall, but the satellite locations were well used by voters and run with no major problems or any evidence of fraud. Satellite early voting is a no-brainer and it's a shame Republicans are hiding behind security and fiscal red herrings, since their concern is purely political; they simply believe early voting helps Democrats.
County Republicans would be better served by ramping up their get-out-the-vote efforts and encouraging their voters to use satellite locations instead of blocking them.
This isn't the first time the parties have been divided squarely on a partisan basis about ballot access. The first Common Cause issue I worked on back in 1995 was state implementation of the National Voter Registration Act, or the "motor voter" law. While it seems hard to believe today, there was widespread resistance to motor voter by many Republicans in the Statehouse and in county courthouses across Indiana. So much so that Indiana was among the last three states to pass laws to implement the new process.
Before motor voter, you had two registration options. You could go to the county courthouse or find a deputy voter registrar. There weren't any voter registration forms in public libraries, community centers or state tax booklets, and the state was not required to offer voter registration at license branches or public-assistance offices.
Motor voter revolutionized voter registration. Today, the majority of Hoosiers who register to vote do so at the license branch while conducting other business, the ultimate in convenience. We've become accustomed to widespread access to voter registration forms, and most recently the state made it possible to register to vote online if you already hold a state ID or driver's license.
Not all state agencies have done a good job at voter registration, though. Just last month, the state settled a lawsuit brought on behalf of Indiana public assistance recipients. Since low-income people and people with disabilities have traditionally registered to vote at much lower levels than others, special emphasis was included in NVRA to require states to offer voter registration to its public assistance clients. For years, Indiana basically ignored that provision, but since implementing the changes required by the settlement, registrations in these offices have skyrocketed, confirming the existence of an underserved population.
Other ballot-access reforms still need to be made. For example, the voter registration deadline is a month before Election Day; given that all counties now have electronic voting lists, there is no reason that cut-off date couldn't be moved forward at least a couple of weeks.
And while Marion County Republicans argue against satellite voting by saying anyone can vote absentee by mail, that isn't quite true. Republicans in the General Assembly have fought efforts for years to pass "no-fault" absentee voting, which would allow anyone to vote absentee by mail.
Currently, only senior citizens, military personnel and people with disabilities have a right to vote absentee; anyone else has to swear under penalty of perjury they will be unable to vote on Election Day for a reason proscribed on the application. Convenience isn't one of those reasons.
In addition to restricting access to absentee voting, Indiana also closes its polls earlier than most states and doesn't require employers to allow workers time off to vote. Factor in the most restrictive photo ID law in the country and it's clear that some Hoosiers still face obstacles in voting.•
__________
Vaughn is policy director for Common Cause/Indiana, a nonpartisan citizens lobbying organization that works for open, honest and accountable government. Send comments on this column to ibjedit@ibj.com.

Please enable JavaScript to view this content.