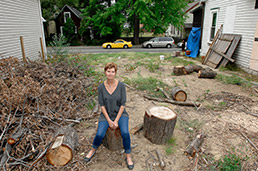 Connie Zeigler is among residents of the North Square neighborhood who fear further demolition in the area will produce more lots like this one, where an abandoned house was razed a year ago. (IBJ Photo/ Perry Reichanadter)
When members of the North Square Neighborhood Association learned of city plans to demolish two homes in their area last winter, their reactions were mixed.
Some saw the move as a way to rid their neighborhood just south of downtown Indianapolis of long-standing eyesores.
Others, including ardent preservationist Connie Zeigler, anticipated it would produce a similar result as a demolition months earlier on the same block of Hosbrook Street: trading a house with redevelopment potential for a weedy lot strewn with wood and other debris.
So the neighbors agreed on a compromise—to persuade the city to delay demolition while they hunted for a buyer. With the help of the area's not-for-profit development group, they found one who plans to rehab the properties.
Now they're working through the final legal hurdles before the sale is complete.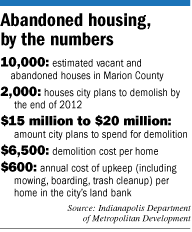 Despite the initial divide, "everyone could agree that it was better to have people move in to the homes," said Zeigler, who renovated her blue bungalow a block down from the properties five years ago.
The debate over demolition in North Square reflects a larger discussion that's beginning to intensify as Mayor Greg Ballard's administration launches an effort to raze some 2,000 homes by the end of 2012.
City officials and many neighborhood leaders have hailed the initiative, which will cost $15 million to $20 million, as a long-overdue means of tackling urban blight and the crime, health hazards and diminished property values that accompany it.
Most agree that some of the most dilapidated homes on the city's list should be taken down.
But some residents and experts fear rampant demolition—without a clear plan for how to redevelop the properties—will be a waste of resources that fails to improve neighborhoods.
Among the concerns is that the lots will become overgrown with weeds or become illegal dumping grounds. City agencies address those issues when residents call to report them, but in some cases they go unchecked.
Others worry that knocking down some salvageable homes eliminates potential for rehab and wipes away some of the city's unique housing stock. In some cases, experts says, rehabbing homes is cheaper than new construction, but it depends on how much work needs to be done.
Perhaps most worrisome: While the city has legal authority to demolish the homes, in most cases it doesn't own the properties. As a result, there's no plan for the properties' reuse. That means newly empty lots could sit for decades, in some cases leaving holes in neighborhoods with comeback potential.
Leaders of some groups, such as the Near Eastside Community Organization, or NESCO, have asked the city whether some of the money—which came from the $2 billion sale of the water and sewer utilities—could be used for other revitalization strategies, such as basic rehab on the homes to provide incentives for additional private investment.
"It's problematic to have a neighborhood where we're trying to encourage redevelopment and have more and more vacant lots without a plan," said Rick VanDyke, the group's president and a resident of the east-side Woodruff Place neighborhood. "It's questionable how much impact [demolition] is going to have on redevelopment because it's not done in a focused kind of a way."
'Block-by-block approach'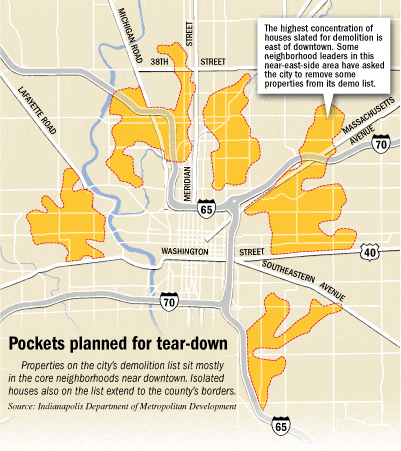 City leaders don't know what will become of most of the lots now housing the 1,100 properties they so far have obtained authority to demolish.
But they say taking down the problem properties is an important first step in getting rid of hazards to the city landscape. After that, the city will work with neighborhood groups and others to come up with new uses for the sites, said Marc Lotter, a spokesman for Ballard.
"The mayor is taking a block-by-block approach to this," Lotter said. "You can't do it as a one-size-fits-all solution."
All but about 40 of the parcels will remain in the hands of negligent property owners after demolition, said Reginald Walton, the city's abandoned housing administrator.
If those owners fail to pay taxes or city liens, the city could acquire the properties through its land bank, which holds properties to resell to not-for-profits and developers for rehab. But the land bank lacks the money to add significantly to its inventory of properties, in part because of a roughly 16-percent reduction in federal funds in next year's budget
As IBJ reported in June, the city has been in talks with a group establishing a not-for-profit land bank whose expanded capacity would help the city take on and steer redevelopment of additional properties.
Lotter said strengthening the land bank will be part of a "broader neighborhood redevelopment vision" Ballard plans to announce in coming weeks.
Meanwhile, tearing down the problem properties will provide an incentive to some neighbors—as well as not-for-profits and other developers—to purchase them through tax sales, Walton said. Buyers could expand their yards or create pocket parks and urban gardens or new development.
To provide additional motivation, Walton said, the city will remove the fees accumulated for tasks such as weed upkeep and demolition, which typically factor into the cost of the property.
"When you wipe the slate clean," Walton said, "it makes it easier for individuals to envision something new going there."
That vision isn't likely to translate into robust market interest, however.
Bill Taft, executive director of Local Initiatives Support Corp., which provides assistance to not-for-profit developers in Indianapolis, said he supports demolishing 2,000 homes in Indianapolis because some are unsalvageable and others lie in neighborhoods where reinvestment opportunities are minuscule.
But those same dynamics make it challenging to encourage reuse of the land once the houses are removed.
"No one will be running forward to buy these vacant lots," Taft said. "It's incumbent on the city and groups interested in community development to have a solution for that."
It's also critical, experts say, that cities plan carefully where demolition occurs to avoid creating gaping holes in neighborhoods.
Alan Mallach, senior fellow at the National Housing Institute, said cities where the abandoned housing problem is more acute, such as Dayton, Ohio, and Saginaw, Mich., now are grappling with how to do that.
"What you want to do is concentrate the holes and make sure you keep strong neighborhoods that still have a good sort of texture," Mallach said. "You really have to understand what's going on in your city and do some serious thinking about what the future of different parts of the city are."
'Piecemeal strategy'?
The city has targeted properties for demolition based on factors such as police runs, resident complaints and undeliverable mail.
Once the city identifies the properties it wants to take down, Marion County Health and Hospital Corp. makes a case to an administrative law judge to tear down homes that have structural problems, such as holes in the roof or foundation problems. The judge must give clearance for demolition to proceed.
Walton said the city also has gotten feedback from residents about problem properties and sought input from not-for-profit developers about sites they want to acquire for redevelopment purposes.
But VanDyke, the NESCO president, said his communication about specific properties came after the city released its list of houses in that area slated for demolition in mid-August.
Now, he and others in the group are trying to persuade the city to remove certain properties from the list, including those they think have redevelopment potential.
Rather than using all the funds for demolition, some say the city should focus its dollars in a few targeted neighborhoods using strategies beyond demolition.
"The tools exist now for the city to do more than just demolish," said Jeff Bennett, who lobbied for laws that gave local government more power to tackle abandoned housing when he was assistant administrator for community economic development under former Mayor Bart Peterson.
"It's concerning to me that they've settled on this piecemeal strategy of demolishing a house here and there. It's almost like throwing darts at a map with no thought of what happens next," he said.
The demolition money can't be reallocated for other redevelopment uses, Walton said, because of the way the bond documents for the utilities sale were written.
But he said it's possible money typically budgeted for demolition—about $1.25 million annually—could be redirected toward other neighborhood redevelopment.
And the city's investment in neighborhood roads and sidewalks, also using money from the utilities sale, will provide additional incentive for others to invest, he said.
"The goal is to get these properties on the tax rolls," Walton said. "It's going to come from developers and individuals helping the city because we can't do it all."•
Please enable JavaScript to view this content.