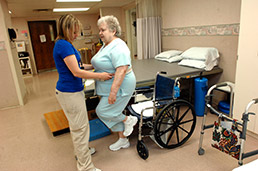 Saint John's Health System physical therapist Brittney Millspaugh helps stroke patient Marilyn Wright regain coordination and strength. (IBJ Photo/ Perry Reichanadter)
ANDERSON—This small industrial city—full of auto retirees and empty factories—is the health care spending capital of America.
The average resident covered by employer-sponsored health benefits in Anderson and surrounding Madison County spent $7,231 on medical care in 2009, according to a new analysis by Thomson Reuters, ranking it highest among all metropolitan areas in the nation.
It's higher than Florida's retirement enclaves, such as Naples, Ocala and Punta Gorda. It's even higher than Flint, Mich., another city once dominated by General Motors Corp. Residents of the Anderson area—when they paid with health insurance provided by an employer—spent 76 percent more on health care than the average American with employer health insurance.
Which means that, 15 years after a famous GM study pegged Anderson as one of its highest-cost areas, and after extensive work by prominent community leaders to improve health care quality and reduce needless spending, Anderson is still a poster child for America's ills on health and health care. It's also a case study in how hard it is to fix them.
"I wish we were number one at something else," said Denise Kriebel, who has been human resources director at Anderson University for nearly 30 years. But, she added, "I wasn't too terribly surprised."
Some reasons for Anderson's high health care spending show themselves clearly in data gathered by the Indiana State Department of Health. Compared with the state of Indiana—which isn't so great itself—Madison County residents are older, smoke more, exercise less, eat worse, and have less family and social support. They also appear to have slightly higher rates of obesity and diabetes.
Such poor health trends mean Anderson residents need more medical care and go to the hospital more. And many of them also have the means to do so because of generous employee and retiree health plans still offered by major employers, including GM, the city of Anderson and the Anderson Community School Corp.
But the biggest problem, locals say, is less tangible. It's the culture created by those first-dollar health plans, in which health care has been essentially free, making it easier for patients to get expensive drugs or surgeries than to change their health habits.
Those dynamics lead to frequent battles between doctors and patients, according to Dr. Bill VanNess, an Anderson native who was a family doctor here for 24 years and is now CEO of Community Hospital Anderson, a 160-bed facility on the north side of the city.
"Any ache or pain, they would want to get a test, even if I didn't think it was necessary. They were really very demanding about that," VanNess said of many of his former patients, referring to such tests as MRIs. "They would say, 'Doc, I've only got to pay a dollar for that test.' If I didn't do it, a lot of times they would just go find somebody that would."
GM legacy
General Motors' work force in Anderson peaked in the 1970s at nearly 25,000 workers. But factories began closing after the deep recession of the 1980s. And in the 1990s, GM began spinning off its divisions that operated in Anderson, which became Delphi Corp., Delco Remy and Guide Corp.
Delphi exited Anderson after filing for bankruptcy reorganization in 2005 and Guide closed in 2007. Remy still operates in Anderson and in nearby Pendleton, but it's a shadow of its former self.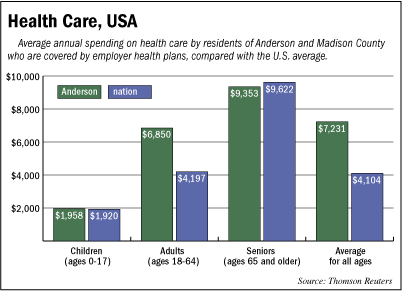 Health care costs were a major factor in GM's struggle to compete against foreign automakers like Toyota. To get a handle on the problem, GM commissioned Virginia-based consulting firm The Lewin Group in the mid-1990s to conduct a sweeping study of its health care costs.
The resulting report identified Anderson among GM's 10 most expensive locales and Indiana as one of its most expensive states.
Still, it was not until 2005 that GM announced it would stop absorbing the yearly health care cost increases for its retirees, roughly 10,000 of whom live in the Anderson area. At that time, Anderson's two hospitals—Community and Saint John's Health System—reported that 15 percent to 20 percent of their revenue was coming from GM retirees.
The Lewin study was a call to arms among Anderson's leaders, who, with a lead from GM, formed a group that is now called Madison Health Partners to try to address the causes of high health care spending in Anderson.
In the past 15 years, the group has launched numerous initiatives, such as an annual health fair with diabetes and cancer screenings, fitness education programs in the community and in the local schools, and efforts to boost the number of primary care physicians in Anderson, which still lags the state average.
Community and Saint John's both joined in, working to disclose and improve their quality scores, as well as to improve patient safety and contribute to healthy lifestyle programs.
These efforts can claim some victories, such as Anderson's much-higher rates of diabetes and mammography screenings than the state as a whole. But Anderson's top ranking in the Thomson Reuters study demonstrates that the core issues in Anderson haven't changed.
"It is a little bit disheartening," acknowledged Russ Towner, an Anderson resident and retired GM executive who spearheaded the formation of Madison Health Partners. "But if we hadn't have done what we did, it would've been even worse."
Glut of services?
Les Zwirn, executive director of Better Healthcare for Indiana, a group that tries to organize community-wide efforts to improve health and reduce health care costs, acknowledged that GM's rich benefits created a "culture of entitlement" in Anderson that lives on. But he said doctors and hospitals there should be viewed as its beneficiaries, not its victims.
"Name me another county with the same population that has three hospitals," said Zwirn, referring to Community, Saint John's Health System and St. Vincent Mercy Hospital in Elwood, which also lies within Madison County.
The three hospitals among them staff 380 beds, or about 2.9 beds for every thousand people in the county. The national average is 2.6 beds per thousand people, according to data from the American Hospital Association.
Residents of Madison County are also a short drive from the medical facilities in the northern suburbs of Indianapolis, where even more complex and expensive procedures are often performed.
"Unfortunately, competition doesn't lower prices like it does in other industries. Instead, it leads to duplication" of hospital services, said Towner, the retired GM executive, who emphasized that he no longer speaks for GM.
"They each have to have a cancer center," Towner said of Anderson's hospitals, "they each have to have an orthopedic center, they each have to have an imaging center, and right on down the line."
Naturally, the health care providers see it differently. While VanNess acknowledged that Madison County might have more health care capacity than it needs, now that its population has shrunk to 132,000 from 139,000 in 1980, his counterpart at Saint John's said patient demand is the real source of high health care spending in Anderson.
"I don't believe that a prevalence of facilities here drives over-utilization," said Tom VanOsdol, CEO of Saint John's, which is a subsidiary of Indianapolis-based St. Vincent Health. He added, "The medical community has been diligent about providing care that's needed and necessary."
Dr. Mark Lawlor, an independent family physician in Anderson who previously practiced in Illinois and Colorado, said the big differences he sees in Anderson are the patients' health status.
"I can't say that I necessarily order more tests or doing any more care than I did there," he said.
In spite of the hangover from its past, the health care culture in Anderson is slowly beginning to change. Since the United Auto Workers took control of the retirees' health plans in 2009, the union has scaled back some of the rich benefits.
Other Anderson employers are following suit. In recent years, the Anderson school system has asked its employees to shoulder some costs of their medical care. And the city of Anderson formed a task force in December 2009 to find ways to save money on its health plan.
That is leading to very different conversations in local doctors' offices these days, Lawlor said.
"I get more of my patients, from GM specifically, asking for generics," he said. "They're asking, 'Is this going to be covered?"•
Please enable JavaScript to view this content.