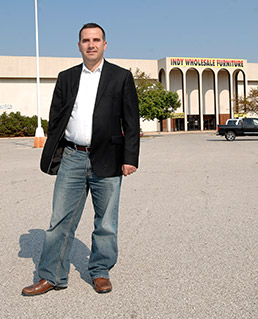 Custom homebuilder Moussa Khoury snapped up the former Macy's store at Washington Square Mall in 2009, at a low point for commercial real estate. (IBJ Photo/ Perry Reichanadter)
High-end custom homebuilder Moussa Khoury began searching commercial property listings online in 2009 as he sought to diversify his business and take advantage of turmoil in the real estate market.
He had never bought a commercial building but was intrigued by a listing for the former Macy's store at Washington Square Mall. The department store chain was offering the 151,000-square-foot store and 800 parking spaces with an asking price of $2 million. The store had closed a year earlier.
Khoury and a partner wound up buying the property for about $775,000. They paid cash since commercial lending had vanished.
Two years later, the investment has begun paying off. Khoury leased the second floor to Indy Wholesale Furniture, which opened in March. And he's working on plans for the first floor. His vision: a home-design superstore offering cabinets, tile, kitchen and bath fixtures and hardwood flooring you won't find at Lowe's or Home Depot.
Khoury also wants to open a small food court with a frozen yogurt stand and a few other food vendors.
"The power in this building is not to divide it into pieces," said Khoury, 41, who lives in Fishers. "In one space, you can visit 10 stores offering fixtures you can't find anywhere else. If you put a lot of stuff in one spot, people will drive to see it."
Khoury said he's negotiating with several of his suppliers—including a high-end kitchen fixture manufacturer in Canada and a furniture company in Italy—to open small shops in the former Macy's. He has plenty of connections: His company, Khoury Custom Homes, designs and builds homes with prices that can exceed $10 million.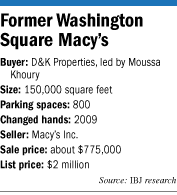 The new store, tentatively dubbed the Home Design Forum, also would offer home and remodeling design services. It's a logical tie-in with Indy Wholesale Furniture, which is leasing the second floor but for now is also using part of the first floor to help draw customers into the space.
The opening of the furniture store marked the first time in years that all five anchor spots at the east-side mall were occupied. The other anchor stores are Target, Sears, Dick's Sporting Goods and Burlington Coat Factory. The mall, at Mitthoeffer Road between 10th and Washington streets, also has an AMC Showplace theater.
The size and layout of the former Macy's store—which anchors the mall's northwest quad—make it tough to fill with traditional users, but ultimately the building remains viable retail space, said Clint Fultz, broker/owner at locally based Prime Site Brokers.
The Washington Square area remains a strong regional shopping draw, he said, in contrast with Lafayette Square, which faces more competition from newer retail offerings including in Avon and Brownsburg.
"Greenfield just doesn't have the retail that Avon does," Fultz noted.
Another factor that should help Khoury's Home Design Forum is the strong do-it-yourself sensibility among east-siders, said Ed Freeman, who owns Indianapolis-based Freeman Commercial Development Inc. and has handled leasing for properties in the area.
Freeman said big-box stores including Meijer, Walmart and Target perform well in the area. And new retail space has been popping up in recent years. The Vitamin Shoppe and Aspen Dental opened locations near the mall last year, and CVS is planning a store at the southeast corner of Washington and Mitthoeffer. Chuck E. Cheese's is moving to the same corner from a spot just east of Interstate 465.
A home-fixture store should also be well-received, Freeman said.
"It doesn't sound like a bad idea, as long as our economy continues to improve," he said.•
Please enable JavaScript to view this content.