In an effort to more accurately reflect how game day meals are consumed, this week's "game on" dining review focuses on appetizers, appetizers, appetizers, etc.
The arena: Wings Etc. (10491 Walnut Creek Drive, 228-9880), the Carmel location for this expanding Fort Wayne-based chain, which also has locations in Avon, West Lafayette, etc.
Spacious, friendly and with flat screens angled every which way, Wings Etc. is known in other markets for its wacky commercials and "Wall of Flame" dare (eat 16 of its "well-sauced" wings without beverage and you earn a spot on the wall). Here, in a market dominated by BW3, it's still got a reputation to build.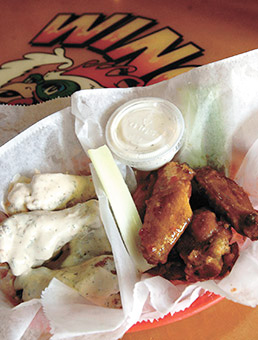 At Wings Etc., splitting sauces is OK. And there's no up-charge for boneless wings. (IBJ Photo/ Perry Reichanadter)
Our visit found the wings sizable but not massive and the sauces thick. You get 10 for $7.99, 16 for $11.99, etc. Sauces range from Wall (Habanero), Suicide and TNT to the politically incorrect Me-So-Spicy to the standard barbecue, Teriyaki, etc. We went with the Honey Mustard and a new addition to the menu, Gar-Licky-Parm—emphasis on the "lick." A stack of extra napkins was mandatory for that one.
We supplemented our wings of desire with Ultimate Nachos ($8.99)—a disc the size of a pizza pan covered in chips, lettuce, tomato, olives, onions, jalapenos, cheese and what was promised to be chili but was more like a thin chili sauce. Mozzarella Cheese Sticks ($5.99) come eight to an order and are served with a good-enough marinara. I've got a beef when a sit-down eatery serves dipping sauce in a plastic, lidded take-out container, but if you don't mind that, the Curly Cheese Fries ($3.99) are as good as any other. And for something a bit different, we sampled a bowl of Fried Green Beans ($5.99) whose thick coating replaced snap with crunch and were worthy munchies for even non-vegetarians.  
Well before halftime, we were stuffed and satisfied and riddled with caloric guilt. As it should be on a football Sunday.•
—Lou Harry
__________
Third in a series of "game on" restaurants.
Please enable JavaScript to view this content.