Jim Irsay likens his Twitter account to a "large buffet." "You like some selections, and you won't like others," said the 52-year-old Indianapolis Colts owner.

In another stream of consciousness, Irsay says his Twitter feed is a "radio talk show, lottery and news outlet."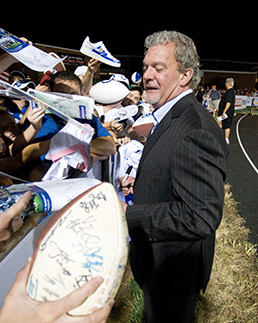 Jim Irsay is often a more popular draw at public functions than the Colts' star players. (Photo courtesy Indianapolis Colts)
The next moment, he calls it "an artistic experiment" and compares it to "street graffiti."

For the Colts, all that matters is that his tweets are provocative, so much so that as of Sept. 15 Irsay had 64,948 Twitter followers. That number eclipses all other team owners and the Twitter accounts of 20 of the 32 NFL teams.

Irsay is among only a handful of NFL owners tweeting and has three times as many followers as such high-profile owners as the Dallas Cowboys' Jerry Jones. Irsay's tweets have been quoted by numerous news outlets, from The New York Times to ESPN.

His tweets are seen as marketing genius by some. Others wonder if Irsay's tweets ramble a bit too far out of bounds or undermine his staff.

Irsay has been known to tweet out breaking news on the status of his team and its players, throw out trivia questions for cash, and commit matching funds to charities through his Twitter feed.

He once tweeted that he and Colts center Jeff Saturday could resolve the recent National Football League labor strife by sketching out a plan on a napkin down at Rick's Boatyard Café. He often tweets references to musical lyrics and obscure pop culture, with the occasional mention of drugs and other taboo subjects.

Few things are off limits—except politics, Irsay said. "I don't exist on one side of the aisle or the other."

While sports marketing experts said the authenticity and sincerity behind Irsay's tweets are big reasons he has so many followers, Irsay cautions against taking it all literally.

"People who followed from the beginning understand the theater that it is, rather than it always being literal," Irsay said.

Irsay said he has few expectations for his Twitter account.
"Interpretation is left up to the people who read it," he said.

Irsay has long been known among NFL owners as one of the most willing to mingle with fans.

"Think about what we see of most NFL owners," said Ken Ungar, founder of Indianapolis-based US Sports Advisors, a branding and marketing firm with several NFL clients. "You usually see them up in the owner's box, far removed from the fans. Jim Irsay has shied from that image, and I think his Twitter account is an extension of his genuine efforts to connect with fans."

Trippin' in Twitterville

While Irsay is a tweeting trailblazer among NFL owners, he admits he was slow to embrace the technology.

He said he's never had a Facebook page and only started text messaging in 2008. Irsay agreed to start his Twitter account only last Dec. 1, after his youngest daughter, Kalen, badgered him into it.

"I didn't even know what Twitter was," he said. "My daughter had to explain to me the difference between Facebook and Twitter. I thought it would be a good way to get information out to the media and connect with a lot of fans."

It didn't take long for Irsay to become hooked. He's a prolific tweeter, putting out as many as 25 messages a day on the Internet social network.

Irsay was so taken by Twitter's potential, he arranged to meet the company's CEO, Dick Costolo, and other company executives after the Colts game against the Oakland Raiders last Dec. 26.

"It's very interesting to see how these people think," Irsay said. "The Twitter brand is just unbelievable. I don't know of any other brand that has gotten this amount of exposure in a relatively short amount of time. I wanted to meet the people behind it."

Irsay said he went to Twitter's San Francisco headquarters to talk to company executives about their vision for the company, to seek advice on how best to use his own Twitter account, and to talk to them about some ideas he has for technology-driven business enterprises.

Irsay came away from the meeting with a new appreciation for the medium.

Voyeuristic view

More than a few times, Irsay has taken heat for his tweets.

"I think at times he sends his communications department scrambling by what he tweets," said Milt Thompson, president of Grand Slam Cos., a local sports marketing firm. "There are times when you read something on his Twitter account and you wonder if that might not have been better coming from someone else within the organization."

Irsay's tweets about the off-season labor dispute raised eyebrows, as did tweets about the health status of Colts players, including quarterback Peyton Manning. On Aug. 21, Irsay tweeted that he was in Hattiesburg, presumably Mississippi, where retired quarterback Brett Favre lives. Irsay said his staff knew he was joking, but it wasn't immediately clear to the media or fans that the prospect of Favre's subbing for the injured Manning was pure fantasy.

Irsay also raised some eyebrows when he tweeted that the Colts were signing quarterback Kerry Collins before team President Bill Polian or Coach Jim Caldwell had the chance to make the announcement.

Irsay said his tweets are never made on business-related topics that have not been discussed with his lieutenants.

"I take guarded risks, but I know where the line is," he said. "I'd never do anything to hurt the competitive edge of this football team."

He also said he's discussed his Twitter account with NFL executives. He said Commissioner Roger Goodell—who has a Twitter account of his own—has no problem with it.

"You can say what you want, but people—especially sports fans—love that stuff," said Larry DeGaris, director of academic sports marketing programs at the University of Indianapolis. "Voyeurism has a big appeal in sports. You want to peek behind the curtain, and that's a big part of what social media does."

Rock star status

Despite its playfulness, Irsay's use of Twitter is not pure folly.

"It may not be scripted, but I don't think there's any doubt it has considerable marketing value," said David Ayers, MZD Advertising's director of public relations. "The interaction through his Twitter account has only served to strengthen his relationship with Colts supporters."

That connection was evident at training camp in Anderson last month.

More than 9,000 Colts fans attended a night practice in Anderson Aug. 3, and the crowd surrounding Irsay was bigger than around any of the players, including some of the team's biggest stars.

"The fans' reaction to Jim Irsay that night is something I can only liken to a rock star," Ayers said. "How many NFL owners are out there talking to fans and signing autographs?

"And it wasn't like he was out there just signing autographs with his head down," added Ayers, who attended the event with his two school-age sons. "It was very much a conversation. He was out there for almost an hour. He was very engaged with the people. It's all my kids could talk about for two weeks."

Ayers thinks that type of public relations will carry the Colts when the team struggles on the field.

"We're going to get a good test of that this year," Grand Slam's Thompson said. "I'm a traditionalist. I think winning is what puts people in the stands. But I admit, his connection with fans is pretty rare among professional sports franchise owners."

There have been other high-profile owners, including the late George Steinbrenner of the New York Yankees and former Philadelphia 76ers executive Pat Croce. The Dallas Mavericks' Mark Cuban, Oakland Raiders' Al Davis and the Cowboys' Jones have also been in the spotlight at one time or another.

"Irsay is different from all those guys," DeGaris said. "He's not as outrageous as Croce and he doesn't have nearly the number of detractors as Mark Cuban or Jerry Jones. And while Steinbrenner and Al Davis were out there, they never had the kind of purposeful interaction with fans that Jim Irsay has. A guy like George Steinbrenner would never respond to fans."

Irsay isn't sure where the trail he's blazing leads.

"I think there's a strategic aspect to what I'm doing," he said. "But sometimes it's putting a lot of dots out there without knowing whether they'll ever be connected, or where it leads."•