American International Group famously riled the nation by holding an executive retreat at a posh resort in 2008, shortly after the insurer had been bailed out by U.S. taxpayers. That move sent luxury hotels across the country reeling as other companies canceled meetings lest they also make headlines for perceived extravagance.

But that wave only nibbled at Indianapolis. And now, three years later, the tide is moving in the opposite direction. High-end meetings are quietly returning.
The five-year-old Conrad Indianapolis anticipates its best year ever in 2012. Business customers are paying more for rooms as the stigma of lavishness wears off. (IBJ Photo/ Perry Reichanadter)
"It's coming back very strong," said Greg Tinsley, general manager of the Conrad Indianapolis. "We're positioned better going into 2012 than we've ever been."

Premium business meetings account for about 25 percent of the revenue at the 5-year-old Conrad, he said.

After keeping room rates steady the past few years, the Conrad is finally finding business customers willing to pay more. Growth will come through rate increases and not volume, at least in the near term, Tinsley said.

The Indianapolis Marriott Downtown also has seen an uptick in such high-end corporate bookings as executive-level meetings and incentive trips.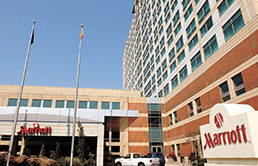 The Indianapolis Marriott Downtown is seeing more high-end corporate bookings. However, the improvement hasn't yet brought the hotel back to pre-2008 levels. (IBJ Photo/ Perry Reichanadter)
"We're not back to pre-2008 levels, but things are definitely improving," said Janice Zoeller, the hotel's director of sales and marketing. "The reason we've seen success year-to-date is because of corporate meetings that are returning."

The Indianapolis Convention & Visitors Association has booked more than 60,000 room-nights for corporate and incentive meetings in 2011, a 42-percent increase from last year. And those figures do not include groups booked by individual hotels.

Premium corporate events are not a large piece of the local meeting pie, but they are important, said Chris Gahl, ICVA's vice president of marketing and communications. Although they lack the numbers of a large convention, the per-capita spending is higher, and they expose movers and shakers to what Indianapolis has to offer.

Upscale corporate meetings are likely to remain limited in Indianapolis without more direct air service, said Mark Eble, regional vice president in the local office of PKF Consulting USA, a hospitality consulting firm based in San Francisco. It's simply easier and less expensive to bring executives to Chicago, he said. However, he believes Indianapolis has an advantage over such cities as Louisville; Cleveland and Columbus, Ohio; and Kansas City, Mo., due to a bigger and higher-quality convention center and downtown lodging and ease of movement among downtown attractions, convention sites and lodging.

Corporate meeting business is growing, but it's still a buyer's market, Eble said, adding, "Meeting planners have the upper hand with hotels, particularly in luxury environments."

Eble expects increased demand to gradually change that imbalance, especially since it's unlikely many upper-end hotels will open nationally in the next three to five years. Indianapolis, however, is slated to get an addition: The 158-room upscale Dolce hotel is expected to open within two years as part of the City Way project at the southern edge of downtown.

The so-called "AIG effect" that walloped resorts around the country may have actually helped the Indianapolis hospitality industry weather the recession.

"We saw a lot of companies say, 'Rather than going overseas or going to exotic locations, let's keep it domestic and affordable,'" said ICVA's Gahl. "We fit those two categories and reaped the benefits."

That was a time when being a less-flashy city paid off, said Shannon Gardner, president of Accent on Indianapolis, a local destination-management company that handles many high-end corporate meetings.

"We heard from clients that they could come here and host an incredible program, have premier off-site venues like Lucas Oil [Stadium] or a museum, but don't feel like they're going to end up on the front page of a newspaper for lavishly spending money," she said.

The Conrad's Tinsley agreed, noting that his hotel "picked off" business from other markets for exactly that reason.

Companies did cut back, though, Tinsley said. Meetings became shorter and fewer people came, with some participating only through teleconferencing.

Local hotels had customers scale back full breakfasts to continental, trade sit-down dinners for receptions, replace full bars with beer and wine only, and offer group shuttles instead of individual transportation.

Sometimes those changes save little money, but they gave the impression the company was being more cost-conscious, Gardner said. That focus on perception led luxury hotels across the country to remove the word "resort" from their name.

Although corporate budgets are loosening, hotel executives say they are still having to work hard to get business. Meeting planners are looking for hotels that listen intently to what the customer wants and find creative ways to deliver it.

Companies are expecting higher-quality meeting content to assure a solid return on their investment, Gardner said. They're also interested in free or low-cost extras. For example, as part of hosting a group for dinner, a restaurant might agree to have one of its chefs give a food demonstration or have its sommelier share tips on wine.

To keep meetings from looking too frivolous, hotels in some markets are allowing groups to designate a portion of their room revenue for charity and are incorporating volunteer activities into schedules.

Because of budget uncertainty, many companies are waiting until much later to plan meetings. For example, Accent on Indianapolis recently handled a meeting here for 700 people that was organized in less than six months. Cities that can be flexible and accommodate last-minute bookings are benefiting from the trend, Gardner said.

Businesses realize that face-to-face contact—whether among employees joining forces in a merger, executives networking with one another, or a sales rep sitting down to dinner with a client—is what allows companies to grow, Gardner said. So they're ramping their meetings back up, in spite of the cost.

The National Business Travel Association predicts expenditures for premium business travel will rise 6 percent next year.

PKF's Eble also is bullish on the incentive travel market.

"Even in light of the economy … there is still a need to recognize superior performance. There is still a market for incentive travel," Eble said. "You could make the counter-argument that, when times are tough, you need to recognize it even more."

The wealth of sporting events here, from the Indianapolis 500 to golf tournaments, has long made Indianapolis desirable for incentive trips, said ICVA's Gahl.

"Corporations use an event like the men's or women's NCAA Final Four to entertain top performers for a weekend littered with expensive dinners and extravagant events," he said.

Of course, the big daddy of them all—the Super Bowl—is just around the corner. The hospitality industry can't wait, as it expects the schmoozing to be unprecedented.•