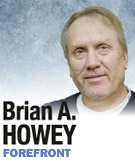 Sir Paul McCartney famously and whimsically fretted back in 1967 whether he would be needed or fed when he turned 64. Life's cruel irony was that when Paul turned 64, he was being taken to the cleaners for millions in divorce court by his ex.
Ahhhh, life …
Which brings me to state Rep. Phil Hinkle. This we know: The 64-year-old Republican answered a Craigslist inquiry from an 18-year-old man seeking a "sugga daddy." It ended up being splashed on the front pages of The Indianapolis Star with an array of sordid, albeit unsubstantiated "he said, he said" controversy stemming from a series of e-mails, phone calls and interviews. The original story, if true, could raise questions about the possibility of criminal confinement, as the young man told a reporter he wanted to leave the JW Marriott after whatever it was they did together, and the legislator allegedly prevented him from doing so.
It might have been as innocent as viewing—together—the Statehouse bathed in light from a fancy hotel. Perhaps there was consensual sex. For some reason, $80 was exchanged, and the young man ended up with Hinkle's cell phone. And things apparently became really complicated when the young man's sister and, according to news reports, Hinkle's wife and daughter allegedly became part of this haywire story line.
Indianapolis police are not investigating whether crimes were committed that night, and no official activity has been forwarded to Prosecutor Terry Curry, a Democrat. If the Prosecutor's Office is investigating through its grand jury, it is taking the classic cannot-confirm-nor-deny stance.
If Hinkle is guilty of anything in the court of public opinion, it is bad judgment swaddled in blatant hypocrisy. The Republican—who authored legislation for the "In God We Trust" license plate and who has voted for every anti-gay-marriage constitutional amendment—is in a political pickle. House Speaker Brian Bosma wants him to resign, as does Marion County Republican Chairman Kyle Walker.
There are time-tested axioms you hear as a freshman candidate gunning for the Statehouse. Make sure you're up-to-date on your child support. Explain that DUI decades ago as a teachable moment or youthful indiscretion. Don't beat your girlfriend at a Jimmy Buffett concert wearing a parrot head shirt.
If you're checking into a hotel room for an extramarital fling, don't use your real name. Spurned wives can mean bad press. And for crying out loud, don't get caught in bed with a dead girl or a live boy.
Hinkle appears to have broken the most obvious rule, and at the end of the night, his Blackberry and iPad were in the possession of this young man, whose intent is as murky as Hinkle's own morality.
All indications are that Hinkle is going to ignore the calls for his resignation. In addition to his clothes, confidentiality and dignity, he has been stripped of his committee chairmanships. He will be relegated to the back bench. He almost certainly won't be invited to the GOP caucus.
Fellow legislators suggest that Hinkle's motivation for hanging onto his seat is financial. He recently lost his job with the Wayne Township school district and needs the $50,000 or so he'll make as a legislator for the rest of his term.
Hinkle's foray into serial bad judgment essentially robs his constituents of full-throated, maximum clout, now muted in scandal. He maintains he went close to the edge, but not over the edge. The people he represents now have no effective representation when it comes to festering issues such as right-to-work and government reform.
And it complicates things. When the parents of Vera, Chuck and Dave talk to legislative staff about internships and paging, the questions about Hinkle abound. When he enters a room, the interns will scurry. Eyes will roll. Snickers and bad jokes will be endless.
Will you still need me, will you still feed me, when I'm 64?
The cruel answer at the Statehouse, Rep. Hinkle, is no.•
• Howey is a third-generation Hoosier journalist who publishes Howey Politics Indiana. Send comments on this column to ibjedit@ibj.com.
Please enable JavaScript to view this content.