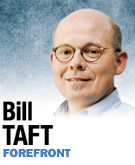 It isn't often that mayoral candidates have the chance to square off over how to best invest $450 million in flexible funding, but that appears to be one of the central issues of the 2011 Indianapolis mayoral election.
While Indianapolis faces years of constrained operating budgets due to the tax caps, the sale of the Indianapolis Water Co. will generate a $450 million windfall that has only loosely been targeted for "infrastructure" projects by Mayor Ballard.
Meanwhile, the near-east side is being transformed through the Super Bowl Legacy Initiatives' $125 million of investments. This partnership between the Super Bowl Host Committee and neighborhood-based groups used a $1 million NFL grant to attract grants and donations to implement a long list of major community projects.
Neither Ballard nor his Democratic opponent, Melina Kennedy, have offered detailed plans for how to most effectively leverage even larger levels of investment in neighborhoods that really need it.
If these funds are completely spent on infrastructure repairs or even enhancing service programs by capitalizing a new endowment, we will miss an opportunity to attract a far greater investment in transforming our core city.
Both candidates should put forward ambitious plans to use Rebuild Indy funds to leverage a massive investment in core neighborhoods using the lessons we gleaned from the Super Bowl Legacy Initiative.
Indianapolis will remain a competitive city only if its core neighborhoods become more vital places where people choose to live, work, shop and invest. When recent college graduates decide where to live, they are increasingly looking for walkable, safe, diverse and interesting urban neighborhoods. Indianapolis has the urban "bones" to create neighborhoods that compete successfully with not just Carmel and Avon, but also Denver and Portland.
Unfortunately, beyond its downtown, Indianapolis has a lot of catching up to do. Based on a recent measurement of core neighborhood vitality by the CEOs for Cities organization, Indianapolis ranked 40th out of the 50 largest U.S. cities.
When this ranking is compared with the city's ranking as the 12th largest in population, it shows the relative weakness of our core neighborhoods. Center Township has lost over 60 percent of its population since 1960, and high crime, poverty and high-school dropout rates are concentrated in our core neighborhoods.
The next mayor should use the power of Rebuild Indy funds to convene a broad civic effort to create a vibrant Indianapolis core. This initiative could assemble as much as $1 billion to invest in revitalization strategies that could be expanded to a transformative scale, attracting additional market investments for decades to come.
Rebuild Indy matching funds would empower a task force of civic leaders undertaking an aggressive fundraising campaign targeting local and national foundations, corporations, state and federal programs, and private loans and equity.
A string of failed federal urban renewal efforts shows that money isn't enough to achieve neighborhood revitalization. The next mayor should rethink longtime public and private redevelopment approaches and structures to implement truly effective neighborhood revitalization.
While existing neighborhood development groups have accomplished great work, we need high-level civic leadership and a broad array of expertise brought together within a comprehensive public-private campaign to help neighbors realize their ambitious plans.
This initiative should support a comprehensive range of work bringing new owners to abandoned housing, revitalizing commercial and industrial areas, improving educational options, training residents for future jobs, enhancing public space and health, and making neighborhoods safer.
The Super Bowl Legacy Initiative has attracted more than $125 million in investment over three years, demonstrating the power of mobilizing the entire community to support a single neighborhood revitalization strategy.
The next mayor has the opportunity to use Rebuild Indy funds to expand the legacy approach to remake our core neighborhoods into vibrant places that make our entire city stronger.•
• Taft is Indianapolis executive director of Local Initiatives Support Corp., a not-for-profit that invests in neighborhood redevelopment projects. Send comments on this column to ibjedit@ibj.com.
Please enable JavaScript to view this content.