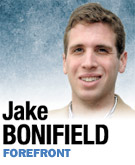 While crawling down Penn on a recent afternoon—skillfully navigating a familiar slalom of orange cones—I was frustrated. Did we really need to fix this right now?
Luckily, the fleeting thought was given a chance to marinate in the unrelenting afternoon traffic. The thought begged a broader question—what do we want our elected officials to do?
Few of us would say better roads are our top priority, but few would argue we don't need reliable streets, bridges and infrastructure. Infrastructure improvements have near universal appeal. They also tend to ingratiate elected officials to their constituents in ways that partisan agenda items simply cannot. No party is pro-pothole.
This is undoubtedly part of Mayor Ballard's rationale as we approach municipal elections this fall, but it is difficult to imagine that residents will hand him a win for such facile progress. Or will they?
The formula for transformational governance is simple to describe and difficult to execute: Propose big ideas that propel public discourse to new heights while spending as much effort, time and energy on policies that improve the daily lives of citizens.
As Mitch Daniels prepares to join the likes of Dick Cheney, George W. Bush and several other prominent officeholders whose tomes have hit the bookshelves in the past year, there is a great deal of speculation and even some early criticism of its contents. His take on Social Security, his fiscal record as Office of Management and Budget chief and governor, and any pages devoted to his personal life will all garner attention from the press over the next month or so.
But as the book tour ends and Hoosiers are left to contemplate his record, it may well be the little things that stand out.
From his stance on daylight-saving time to his efforts to streamline the Bureau of Motor Vehicles, Daniels succeeded in reminding many Hoosiers that state government matters, and that seemingly obscure changes in policy can have a big impact on their everyday lives.
One such issue that has received scant attention over the past few years but desperately needs to be addressed involves public libraries in Indiana. Democratic mayoral candidate Melina Kennedy has made library hours and budget cuts an issue in her contest with Ballard, and it would be difficult to imagine a political downside.
Daniels, in his first truly "lame duck" session since deciding not to seek the Republican nomination, should champion the cause at the state level, as well.
The Kernan-Shepard Commission, the same body that examined local government reform and was the impetus for the ill-fated local government reform efforts of the past several years, examined local government structure and inefficiencies statewide. Its recommendations were largely generic and have since received considerable attention, but one has not.
In a section on the state of Indiana's public libraries, the commission noted that close to 400,000 Hoosiers are without access to library services in their communities. To say nothing of the under-served or library facilities in disrepair, the commission noted that close to a significant part of the state was without access to a vital component of public education in America.
Libraries, like roads, are government where nearly everyone wants it. They represent a progressive idea that, combined with private investment and local involvement, serve communities efficiently with demonstrable benefit.
Perhaps Daniels, and other elected officials, should embrace libraries as the centerpiece of his final year's agenda. After all, what better way to move the local government reform issue forward than by changing the appeal?
Public library conditions and access, much like long lines at BMV, represent an opportunity for the savvy political leader to broaden his appeal and do some good in the process.
It may not be what memoirs are made of, but attention to these sort of details should be what governing is all about.•
__________
Bonifield is a political science major at DePauw University and president of Hoosier Youth Advocacy, an organization focused on increasing youth participation in the Indiana General Assembly. Send comments on this column to ibjedit@ibj.com.
Please enable JavaScript to view this content.