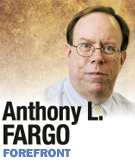 You can call Joe Hoage an educator. You can call him a public servant. But don't call him an enforcer.
Hoage became Indiana's latest Public Access Counselor in July. He previously was an attorney for the Indiana Gaming Commission and was a Marion County deputy prosecutor.
Gov. Frank O'Bannon created the Public Access Counselor's Office in 1998 after several Indiana newspapers collaborated on a public records audit. They sent reporters to agencies in all 92 counties to request documents that were clearly public record under state law. Compliance was so dismal that O'Bannon created the PAC office to educate officials about the Access to Public Records Act and the Open Door Law and to give the public someone to call for help.
In a recent phone conversation, Hoage said education was one of his top goals. He plans to do three or four presentations to agencies and citizen groups per month.
"The more you educate upfront, the less you have to deal with problems later," he said.
His other main goal, he said, was to provide excellent "basic customer service." He said he would try to always get back to callers on the same day they call.
Hoage and I ended up talking a lot about enforcement of the records and meeting laws. If you are denied a record even after the PAC office says you should have it, your only real option is to sue. If you win, you can get the agency to pay your attorney's fees. That's an expensive gamble for many citizens, however.
Because I am a member of the Indiana Coalition for Open Government board, I occasionally get e-mails or phone calls from people asking for advice on how to handle an agency that won't give them documents they believe are public.
I usually urge the person to call PAC. But every now and then, I talk to someone who contacted the PAC office, got a PAC opinion favoring his or her request, but still got turned away by the agency. A survey ICOG and the Indiana University School of Journalism did a few years ago about user satisfaction with the PAC office also turned up several reports of local and state agencies refusing to comply with the law even when PAC said they were wrong to withhold records.
The Legislature has considered several times in recent years a bill that would allow judges to fine public officials for "willful and knowing" violations of the records and meeting laws, but it hasn't passed both houses in the same session.
Hoage was not sure such a law was needed, but he was sure his office should not enforce it.
So far, Hoage said, he hasn't run into an agency that withheld records or access to meetings with an "evil intent." Even if he had, he would not favor his office enforcing a law with fines or other penalties. He said he needed to be able to give agencies "frank advice" and encourage them to call him if they had questions, which would be more difficult if he also was the one who could punish them.
He pointed to statistics indicating only about 5 percent of all calls, e-mails or complaints the PAC office received in 2010-2011 ended up being about "true violations" of the transparency laws. The rest were non-violations or technical violations, such as a record arriving a day late.
Hoage is correct that his office shouldn't be advising agencies on how to comply with the law, educating them, and also fining them when they misbehave. That isn't a formula for trust. Also, the PAC office wasn't created as an enforcement bureau.
Still, people should have an option other than suing when they run into a brick wall in accessing public records or meetings. PAC is not the appropriate enforcer, but someone should do it.
Hoage can be reached at pac@icpr.in.gov or at (800) 228-6013.•
__________
Fargo is an Indiana University journalism professor and member of the Indiana Coalition for Open Government. Send comments on this column to ibjedit@ibj.com.
Please enable JavaScript to view this content.