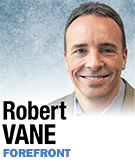 About three years ago, I walked into the Milano Inn to share a meal with a rather distinguished friend of mine, and underneath my arm I was carrying a book titled "69 A.D."
When my lunch companion saw the book, he immediately exclaimed, "That's the year of the four Roman emperors—Galba, Otho, Vitellius and Vespasian."
My lunch date was P.E. MacAllister, whom I believe is Indianapolis' greatest living citizen, a man who has seen it all and seen them all.
Born in 1918 and named after Gen. John Pershing, P.E. was a mere 90 years old then; now, at a still-vibrant 93, he can recall astonishing details about critical historical periods. From intricate knowledge of the Golden Age of Pericles, to the early Christian church, to the tactics of Napoleon, P.E. is simply our city's most remarkable Renaissance man.
We got together recently for another meal to discuss the evolution of Indianapolis and his unique perspective on the recent state of politics and our political leaders.
"Aren't we tired of being an oval in the cornfield?" was the quote P.E. relayed to me as being a rallying cry for the changes that began in Indianapolis in the late 1960s.
P.E. spoke passionately about the men who began the Indianapolis revolution in those days.
Bulen. Burkhart. SerVaas. Borst. All played significant roles in remaking Indianapolis and promoting ideas such as Unigov and the Indiana Convention Center.
It was a change energized by the unique, watershed mayoralty of Richard Lugar. MacAllister and Lugar struck up an alliance and a friendship that remains iron-strong. P.E. makes it clear whom he is supporting in the Republican primary for the U.S. Senate.
"Lugar is far wiser. He does what's right. Anyone who won't compromise is going to be very lonely in this life."
P.E. doesn't disparage the Tea Party, but believes a maturation process is needed. "The Tea Party knows what's wrong, but can't fix it. People cannot separate their visceral reactions from their cerebral processes."
He further declared that anyone who thinks politics is more vicious than ever needs to pick up a history book. "It's no different than it's ever been."
So what does the man who served as president of the Capital Improvement Board when the Baltimore Colts became the Indianapolis Colts and who started the Parks Foundation decades ago think of our current mayor? He gives him high marks.
"Greg Ballard is a hard worker," MacAllister said. "He doesn't walk away from problems, but rather faces up to them and solves them. Like Bill Hudnut, the mayor's heart is in Indy."
MacAllister has had the ear of some of the most prominent Indiana Republicans, and he isn't shy in expressing his admiration.
Like many of us, he was disappointed that Mitch Daniels decided against a run for the White House. In fact, when asked about the governor as a leader, P.E. replied, "He has no peer."
MacAllister went on to talk about the tremendous impact Jim Morris has had on our city and our community. He also complimented former Indiana Republican Party Chairman Al Hubbard as having "the sharpest mind in politics."
P.E. thinks very highly of congressman Mike Pence, and firmly believes he would make an excellent governor. P.E. also was an early backer of someone who I hope will be the next congressman from the 6th District—Luke Messer.
Where would we be without the P.E. MacAllisters of the world? Not just in politics—and there are many Democrats about whom we could ask the same question—but throughout all our society. We are all enriched when people of wealth and accomplishment share their success and wisdom with individuals and communities.
As befitting a man who has been a leader in Indianapolis for six decades, P.E. knows the true strength of our city lives in its citizens.
"I am very proud of our spirit. This is what can happen in a republic."•
__________
Vane, a U.S. Army veteran, has worked for elected Republican officials including Indianapolis Mayor Greg Ballard, and currently owns the public relations firm Veteran Strategies. Send comments on this column to ibjedit@ibj.com.
Please enable JavaScript to view this content.