Sometimes, plans just don't work out. The Indianapolis Colts learned that at the start of this season, and I learned the same on a much smaller scale from my attempt at this week's dining review.
My plan was to visit Presley Presents, a curiosity of a north-side newcomer promising "a buffet of entertainment, food and fun!" What other eatery offers Wednesday night games of Bingo with your buffet meal? Don't answer that.
Alas, despite Presley's phone message insisting emphatically "We're open!," the place was closed when we arrived. The note on the door said menu and management changes were in the works (a change of voice mail message might have been nice, guys).
Days later, the website announced, "Thank you for being part of our 60 Day Market Test." How rude.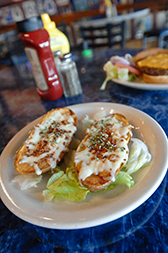 There's as much potato as shell in Blue Crew's cheesy potato skins. (IBJ Photo/ Perry Reichanadter)
Anyway, like the Colts sans Manning, I needed to make a decision and move on—which is how I ended up farther east on 96th Street at the Blue Crew Sports Grill (7035 E. 96th St., 841-3901). No B9s or O63s here, but there was a low-key game of pub trivia happening in the oversized open dining area.
We settled in over the family dining half-wall for Da Burger ($7.95, but upcharged to $10.44 with a slice of cheese and waffle fries). The juicy but manageable half pound of Angus beef proved a most worthy bar burger. The Grilled Cheese ($6.50) was basic, but clearly care was taken by the griller to ensure just the right golden crunch to the bread.
Potato Skins ($6.95) were a misnomer, since there was plenty of potato remaining in these cheesy containers. And Mozzarella Stix ($4.95) were standard issue—which, in the mozzarella stick world, is still pretty OK. A Chicken Salad Sandwich ($6.50), packed to go, kept its crunch, avoided over-mayo-izing, and, if it were served at a tailgate gathering, might likely lead you to ask for the recipe.
While clearly the JumboTron-like TV over the bar is the Blue Crew's prime draw, it's also clear from the food we sampled why the place has retained such a loyal fan base. Even if I don't want to brave the crowd for a game, I may be back for pub trivia or a Wednesday Hold 'Em tournament. This place has game.•
—Lou Harry
__________
Last in a series of "game on" restaurants.
Please enable JavaScript to view this content.