Indiana Black Expo officials are adding a few plays to this year's Circle City Classic game plan in an effort to restore the 28-year-old event to its previous glory.
While event organizers said they raised enough revenue last year to cover the week-long Classic $2.5 million budget and pay out $163,000 in college scholarships, marketing experts say there's still more work to do.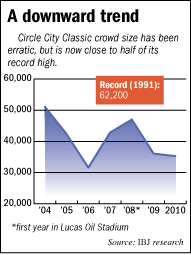 "Candidly, the Classic faces some serious challenges," said Bruce Bryant, president of locally based Promotus Advertising, which represents a Classic sponsor. "The landscape for these types of events has changed and event organizers here need to change to stay relevant."
Vernon Williams, IBE's point man on the Classic, said IBE officials are doing just that.
"We know we can't just maintain the status quo," Williams said. "The event won't survive that way."
Changes include a new start time and a post-game concert featuring R&B singer Monica and rapper Bow Wow.
The kick-off on Oct. 1 will be bumped up two hours from its traditional start time, to 2:30 p.m. The change reduces the time between the game and Circle City Classic Parade, which runs from 10 a.m. until 12:30 p.m.
"We want to make it convenient for people to come downtown for the parade and stay for the game," Williams said.
The game also features two teams—Kentucky State University and Albany State University—that have never played in the Classic.
"These are two schools with very good football teams, undefeated so far, and very good, well-known [marching] bands," Williams said
The marketing campaign for this year's Classic has been significantly pumped up in Indiana and surrounding states, Williams said, with a major push in print, radio and social media advertising. He expects up to half the game's attendants to be from out of town.
Last year, attendance for the game, which features two historically black colleges, was 35,288, well off the 62,000 the game drew in its heyday just more than a decade ago.
The game crowd has been shrinking for several years, but the decline accelerated in recent years. Attendance slid to 31,597 in 2006 before rebounding to 47,000 in 2008—the first year the game was held in Lucas Oil Stadium—then fell again the last two years.
With ticket prices ranging from $10 to $50, the Classic needs about 40,000 to meet half its budget. The other half comes from sponsors and other ancillary events.
Williams said he expects this year's Classic to cover its budget and have at least $100,000 left for scholarships. But organizers have said before that it's been tight just covering the expenses.
In 2009, IBE officials said sponsorship revenue declined 12 percent and overall revenue declined 15 percent from the previous year.
The Circle City Classic is not alone in its challenges. Two other marquee classics—the Bayou Classic and Florida Classic—have struggled to maintain attendance.
"The three original Classic weekends used to be regional, even national draws in some cases," Bryant said. "Now, there are a lot of copycat events, so they have to rely more on the local community and from the alumni bases of the schools playing."
The economy, he said, hasn't helped.
"The auto industry in particular has been very hard on the African-American community," Bryant said.
Economic impact estimates for the event have dropped from more than $15 million a decade ago to $9.7 million currently, according to the Indianapolis Convention and Visitors Association.
"The Circle City Classic still remains an important event for this city," said ICVA spokesman Chris Gahl. "Not only from an economic impact standpoint, but it helps diversify Indianapolis based on the types of events we host, and that helps attract a broader audience to our city."
The leadership structure of the Classic has also changed in recent years. Previously led by a volunteer committee under IBE's direction, the Classic lost its executive director, Marc Williams, in October 2009. Williams resigned just four months after replacing longtime event director, Tony Mason, who left to join the 2012 Super Bowl Host Committee. In late 2009, the IBE took direct control of the event.
Under IBE President Tanya Bell, the Classic staff has beefed up marketing in the home cities of the participating schools and key regional markets such as Chicago, Louisville and Cincinnati.
In May, however, several IBE employees signed a petition for the IBE board voicing concerns over Bell's management style. Bell retained her job, but several managers lost theirs.
"People within this organization would not let anything that happens internally affect spirit and mission of this game," Williams said. "Everyone here agrees that an event like the Classic is bigger than any one person."•
Please enable JavaScript to view this content.