From his ninth-floor office overlooking Monument Circle, Adam Thies can see the handiwork of the many developers, designers and architects who built the city.
Inside an alcove a few steps away, his plans for revitalizing Indianapolis are written on a floor-to-ceiling dry-erase board.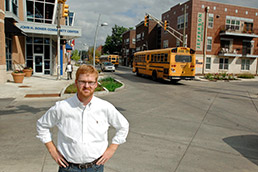 The three-man company Adam Thies founded in 2004 is working to revitalize St. Clair Place on Indianapolis' east side, among other urban-planning and landscape architecture projects. (IBJ Photo/ Perry Reichanadter)
And a few miles to the east, those words are coming alive as three blocks of once-blighted East 10th Street undergoes a dramatic transformation in St. Clair Place.
Modern, angular steel streetlights rise from the sidewalks, overlooking vegetation-filled rain gardens that bookend on-street parking. New construction flanks both sides of the road. A new, two-story medical center and a pair of apartment buildings are further evidence of the neighborhood's multimillion-dollar renovation.
Thies' three-man urban planning and landscape architecture firm, Eden Collaborative, is part of the team designing the century-old neighborhood's new gateway. Eden developed the so-called pattern books that guide contractors working on individual projects in the neighborhood, which Thies said was almost half vacant when the project began in 2009.
It is exactly the kind of project the 34-year-old had in mind when he launched Eden in 2004. The name is inspired by the "beautiful, iconic place" described in the Bible, Thies said, and he speaks often of creating meaningful places that can grow into attractive, thriving communities.
Eden also has had a hand in several other major projects throughout the state, including the redevelopment of Fort Benjamin Harrison, the Indy Connect transit plan and the Carmel Urban Design initiative. It also is the master planner for a revitalization of the Midtown area between Fall Creek, White River and Keystone Avenue.
"When we create a plan, we've created a Rand McNally road map," Thies said. "You're in the garage. Now, you have to get gas—which is often money, sometimes it's support, sometimes it's political—and figure out where to go. … Doing the plan is the beginning."
Eden and its partners are still working in St. Clair Place, part of the Super Bowl Legacy Project. Indy-east Asset Development, the community development corporation overseeing the project, also has retained the firm to develop parks and urban agricultural plots beyond the 10th Street gateway.
"If you go out there right now, 10th Street is a pretty special street," Thies said. "Streetlights, rain gardens—it's a statement about sustainability … not just because sustainability is cool and hip" but because it attracts investors who are looking for that kind of neighborhood.
A collaborator
Planning is a collaborative process, and Eden most often teams up with Greenstreet Ltd., a small real estate developer with which it shares office space. Greenstreet provides input on the financial side of projects—including St. Clair Place and Midtown.
Both Thies and Greenstreet Managing Principal Jeff Kingsbury have urban planning degrees from Ball State University, which they said gives them a shared vision. The Fort Wayne natives each began their careers in Chicago before moving to Indianapolis. The men knew each other by reputation and began working together in 2008.
"Even though we have different skill sets and different career paths, we have a common knowledge toward design and planning that is that center point and grounding," said Kingsbury, 44.
"Jeff and I as a team view the world of planning to be a balance of things, not just, 'What does the community want to see?'" Thies said. "We also want to see what the investment community wants to see. Who's going to drop money to make those dreams become reality? Does the site even accommodate that dream?"
The men create their plans based on what they believe to be a future of limited capital and natural resources, Thies said. So they seek what Kingsbury called "a deeper capital stack" to finance projects—often including both public and private funds.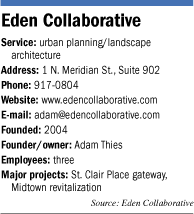 They also strive to create communities that are walkable, connected to future transit options, and find new uses for existing infrastructure.
"I think we [as a society] leave a lot of water in the sponge when we try to get things out of them," Thies said. "There's a huge opportunity to get more out of less. Less is coming—whether that's federal, state or private investment money. … We try diligently to match and align activities that people are already working in. In some ways, that's what sustainability is."
Indy-east Asset Development Executive Director Katy Brett said Eden's work created a foundation for the neighborhood's revitalization and gave the organization credibility with investors.
Aligning stars
In neighborhoods, Eden's strategy can mean designing streetscapes and providing guidelines for new construction. In regional planning—such as the Indy Connect initiative—it is advising the Metropolitan Planning Organization on the effects of transit on neighboring communities.
The planning also ties in with Eden's landscape architecture duties. Thies said cities' decisions about streetscapes and infrastructure can spur development, as in St. Clair Place.
A similar plan is under way in Midtown, where sidewalks are being updated to increase walkability. A landscaped median and crosswalks also are planned for the intersection of Meridian Street and Westfield Boulevard. Eden is part of a four-company team that is developing the master plan.
Thies said the firm's small size allows it flexibility to be part of teams brought together for a specific project.
"We get hired to either broaden [clients'] radar screen or align the stars on their radar screen," Thies said. "That's different than a classic architecture and engineering firm, or a classic economic development firm. … We fill that space in between.
"We want to talk about how buildings can leverage other things, how buildings can create a place that's investable, how the market desires things to be built and that can be built."
Developing communities
Eden also collaborates with clients to help fit plans to the community's desires. Indy-east's Brett said the staff spends time getting to know an area and its stakeholders.
"They do a good job of listening to residents and adjusting plans based on our feedback and resident feedback," she said.
Kingsbury's company uses demographic and psychographic data—the latter measuring values, behavior and perceptions in an area—to focus planning.
In Midtown, where population declined 13 percent over 20 years, resident feedback centered on a vision of a transit-friendly, pedestrian-oriented area similar to Chicago neighborhoods.
But Thies and his team pointed out that Chicago neighborhoods that relied on foot traffic and access to mass transit were four times as dense as Midtown.
As a result, the master plan encouraged property owners to develop multistory buildings, especially along College Avenue and in Broad Ripple, to increase density, said Kathy Shorter, president of neighborhood consortium Harmoni.
"You can have large groups of people in neighborhoods articulate everything they would like to see happen, and in Midtown, we have a near-consensus about what people would like to see happen," Shorter said. "It brings a lot of strength to it when you have a team of professionals that understand best practices in urban design and understand market factors."
Tough love
Those same market factors also can be difficult to hear. Thies said he caught a lot of flak from St. Clair Place residents when he told them their neighborhood Kroger supermarket wasn't coming back. He pulled up the demographic data and showed the data for a typical Kroger neighborhood.
"They'd say, 'We're a great community. We're full of pride,'" Thies said. "That's not the point. The point is the corporate world of grocery stores doesn't look at you that way. They look at you as buying power, demographics. After I made that statement, I said, 'If you really want to tackle this issue, you need to grow it at home.'"
He noted the Pogues Run Grocer, an independent co-op, has opened in the neighborhood.
Urban planning and development can be rewarding when a plan is carried out and the community enjoys the new development. But Thies and Kingsbury said they have a responsibility to get it right.
"What we do will be around for a long, long, long, long time," Kingsbury said. "You make a bad toaster, that's one thing. When you're affecting the built environment, that has a permanence. With that comes a big responsibility, or it should."•
Please enable JavaScript to view this content.