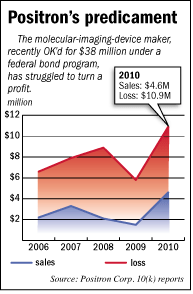 A molecular-imaging company for which the state and Noblesville recently approved millions in incentives to build a cyclotron facility is trying to transition its business model and get beyond a going-concern warning.
Positron Corp. "has a significant amount of accumulated deficit which raises substantial doubt about the company's ability to continue as a going concern," the company's accounting firm said in a Securities and Exchange Commission document it filed early this year.
Positron, an almost 30-year-old company that moved from Houston to Fishers in 2008 after buying Indiana-based medical-device firm Dose Shield, lost $10.9 million last year. At year-end, its accumulated deficit was $102.3 million.
While the company states in a recent quarterly report that finances have improved, the going-concern warning raises questions regarding to what degree the state and Noblesville could be left holding the bag in the event Positron fizzles.
The Indiana Finance Authority, which last month approved $38 million in Midwest Disaster Area Bonds on behalf of Positron, said the state doesn't bear risk. The IFA says it's only a conduit for the bonds, with the business and its financial institutions bearing the risk.
"They're the ones that are ultimately on the hook," said Jim McGoff, general counsel and chief operating officer of the IFA.
The tax-exempt bonds are the result of the Heartland Disaster Tax Relief Act of 2008, by which the federal government aimed to help states like Indiana ravaged by severe storms, flooding and tornadoes. At least 2,249 Indiana businesses and 469 farms suffered losses from storms, according to state officials. The bonds need not necessarily be issued on behalf of a business directly affected by the storm; applicants can ask to be deemed as replacing a damaged business.
Then-Indiana Economic Development Corp. CEO Mitch Roob Jr. last month recommended that the IFA award the bonds to Positron. The imaging company's financial condition wasn't detailed on the application nor does it appear to have been required.
"A lot of companies that are growing have financial losses," said IEDC spokeswoman Katelyn Hancock.
Noblesville jobs
The city of Noblesville, which could eventually reap millions of dollars in tax revenue and see 86 new jobs from Positron's planned $55 million investment, approved $6.7 million in incentives.
"Positron anticipates employing approximately 80 employees within five years, with an anticipated annual payroll of over $8 million," said the resolution of Noblesville's Common Council.
The company has 15 employees in Indiana, according to its disaster bond application.
Noblesville agreed to create a tax increment financing district to capture tax from the project to pay debt service on TIF bonds to be issued by the city.
The city would place the money in escrow and release it to Positron in four phases, as it achieves key milestones at the site. Positron would be required to show it had attracted sufficient investment and necessary regulatory certifications for the cyclotron.
If the company doesn't hit milestones, the remaining money will revert back to the city.
"They have to hit fundraising milestones before we begin releasing that money," said Christy Langley, assistant director of economic development for Noblesville.
City officials are hoping the cyclotron, a bus-sized device that uses magnetic fields to accelerate particles at high speeds to create isotopes for medical use, could draw other related technology businesses.
Last June, Noblesville Mayor John Ditslear said the city of Nantes, France, has a cyclotron similar to what Positron proposes and that it attracted several businesses and research organizations.
Currently, many of the cyclotrons in the United States are based in government defense laboratories and at universities, including a unit at Indiana University.
The high-energy cyclotron planned by Positron would be the largest such commercial unit in the nation, the company said. Positron is looking at a handful of sites in Noblesville and is close to nailing down a location, said CEO Patrick G. Rooney.
Even in the event the company faltered, the cyclotron would have value to other companies or institutions, he said.
"It's a 50-year asset that the [U.S. Department of Energy] would love," Rooney said.
Radiopharmaceuticals hot
The cyclotron is key to Positron's plans to broaden its product line beyond medical-imaging devices such as positron emission tomography, better known as the PET scanner. With the cyclotron, it would manufacture radioactive isotopes for medical diagnosis and treatment—allowing it to offer to hospitals and doctors' offices a fuller product line, particularly in the cardiac care market.
"This is about Positron being the leader in PET going forward," Rooney said.
The company points to one industry estimate that U.S. PET radiopharmaceutical sales could grow to $4.3 billion in 2018; sales were $392 million last year.
For now, Positron is seeking additional private investment to cover what could ultimately be a $90 million investment in the Noblesville operation as it adds related research labs and other processing functions. Rooney said he's been having discussions with investment banks about securing additional financing.
"Positron's potential earnings power is immense," Rooney said in a letter to investors late last month.
The company's stock price has yet to reflect the enthusiasm.
Lately, it's traded at around 2 cents a share. The two-year high is 26 cents a share, in May 2010.
Positron lost $2.8 million in the quarter ended June 30, compared with a $735,000 loss at March 31.
In 2000, Rooney was among 11 individuals sued by the Securities and Exchange Commission as part of an insider trading investigation. The case involved trading in shares of U.S. Shoe Corp. and Luxottica SPA before the March 1995 public announcement that Luxottica was launching a hostile tender offer for U.S. Shoe.
The commission alleged that Rooney's father tipped him and his younger brother before the announcement. The SEC alleged Rooney ultimately reaped $102,950 in illegal profits.
However, Rooney said the matter was resolved in 2004, with the SEC dismissing the complaint without prejudice.•
Please enable JavaScript to view this content.