This month, I'm visiting "en route" restaurants—eateries whose locations don't quite constitute destinations in and of themselves. In other words, they are en route to higher-profile spots.
First up: Tortas Guicho Dominguez y el Cubanito (641 Virginia Ave., 702-3853), which I've driven past many times on my way from downtown to Fountain Square, assuming it was just another taco and burrito joint.
That's far from the case, though. While you can get tacos in this bright, cozy spot, the menu's unique proposition is a lengthy list of Mexican sandwiches, each framed in a pillowy, fresh sweet roll.
You might feel a little silly ordering because each of the sandwiches is named in tribute to a celebrity who is also honored on a wall of fame. But you can order by number rather than name, requesting, say, the No. 3 rather than the "Shakira" ($5.50).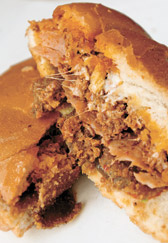 Mexican sandwiches are the specialty at this Virginia Avenue eatery. (IBJ Photo/ Perry Reichanadter)
Whatever you call this sandwich—the first I tried on a solo stop—I give it high marks. It mixes small-chunked Mexican sausage, mozzarella and breaded flat strips of steak with the Tortas standards: tomato, avocado and jalapeno. A complimentary dish of shelled peanuts was a nice nibble while waiting for the cooked-to-order, meal-size sandwich to make it out of the kitchen and into the
tiny, soon-to-be-expanded dining area.
The breaded steak strips, cheese and sausage were also part of the No. 12 ($6.75), the sandwich celebrating Soccer star Rafa Marquez (OK, so I had to look him up), that I sampled on a return trip. Here, with thin-sliced ham added into the mix, Tortas went from being a treat stop to a place that could make it onto my frequent rotation list. The mix of textures and flavors kept things interesting and, this time, I was less cautious with the housemade salsa and the pickled carrots and peppers.
The Tortas newbie who joined me on my second trip went with No. 6, which he had no shame about calling by its proper name: the Enrique Iglesias ($5.50). He found the combo of smoked pork, mozzarella and grilled hot dog (why not?) to be satisfying, but he was even more impressed with both the Subway-ish price point and how welcome the solo front-of-the-house staffer made him feel.
And who needs dessert when you can get a Mexican Coke (with real sugar) or a sweet bottle of Jarritos soda?•
–Lou Harry
__________
First in a month-long series of "en route" restaurants.
 
Please enable JavaScript to view this content.