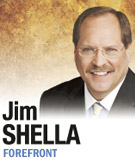 Steve Goldsmith was running for mayor of Indianapolis in 1991 and there was no bigger political story in Indiana that fall. Democrat Louis Mahern posed a challenge that included ideas, television ads and energy. It was a combination no Democratic candidate had generated in this town since the 1960s.
In the middle of that campaign, I was recruited to host and produce "Indiana Week in Review," a half-hour discussion of state politics that airs on public TV and radio (and now WISH-TV). Goldsmith versus Mahern was our prime source of material at the time.
Both broadcasting and Indiana politics have changed dramatically since, but every Friday, the "IWIR" panel still sits down in a studio on North Meridian Street to do its part to give meaning to events that surround us all. (Let's see, 52 weeks x 20 years gets you 1,040. We have produced 1,038 shows since then. I'll take the blame for the two repeat episodes.)
Just a few weeks ago, the "IWIR" panel was discussing Goldsmith and the domestic violence arrest that caused him to lose a job as deputy mayor of New York City. It's an example maybe of how life has changed for others while "IWIR" has not, perhaps, but also a demonstration of the commitment made by WFYI, WISH, and those who appear on the panel.
The show has changed little. We have our third set and new music and graphics, but the concept is the same. We choose five or six of the most important topics in Indiana politics and let a Democrat, a Republican and two analysts (currently Jon Schwantes and John Ketzenberger) hash them out. We no longer do the show live on radio, however.
The live broadcasts produced a couple of memorable events. One involves original Republican panelist Rex Early, who was always trying to throw off Democratic panelist Ann DeLaney. One week, Ann showed up in a leather skirt. Rex waited until just before we went on and asked, "Ann, do you know why men like women in leather skirts?" She demurred and he answered, "Because it makes them smell like a new car!"
The other involved outgoing GOP Mayor Bill Hudnut, who was listening to the live broadcast one Friday and heard the Republican panelist criticize him. Hudnut called WFYI and told the receptionist to put him through to the control room. Soon, the associate producer was in my ear telling me the mayor was on the phone with a complaint. I took out my earphone. Twenty minutes later, Hudnut was still holding when I went to the control room to listen to his rebuttal.
Some of the better "IWIR" stories took place off the set. Current GOP panelist Mike McDaniel tells everyone the best show is in the parking lot afterward. That's a column for someone else to write, maybe. But I think it's worth sharing that there is a community that has grown up around the show, Republicans and Democrats who have new respect for one another, journalists who view politicians in more humane ways, and politicos who better understand journalists' motives based on what is said both on the air and off.
I should share that "Indiana Week in Review" was on the air four years before I arrived, but I know little about that. What I do know is that there are no plans to discontinue the show or change its format.
We are not a hot broadcast property in terms of ratings numbers or key demographics, but the goal was always to reach the people politicians call "thought leaders." That will continue.
Just one more story. We have stopped the tape mid-broadcast for editorial reasons just one time. It was because the entire panel was laughing at an Indiana politician who was about to take a national post, a person who had been a part-time panelist. I wish I could tell you his identity, but that would be wrong.•
__________
Shella is WISH-TV Channel 8's political reporter as well as host and producer of the Emmy-nominated "Indiana Week in Review." Send comments on this column to ibjedit@ibj.com.
Please enable JavaScript to view this content.