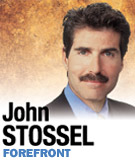 Politicians say they create jobs, but they really don't. Or rather, they rarely create productive jobs. Government takes resources from one group and gives them to another. The pharaohs might have claimed they created work when they ordered that pyramids be built, but think how much richer (and freer) the Egyptians would have been if they'd been allowed to pursue their own interests.
It's individuals in the marketplace who create real jobs—when they have the protection of life and property under the rule of law.
Economic freedom is the key. The theory couldn't be more clear, and at this late date in human history, it shouldn't be necessary to rehearse the abundant evidence. The healthiest economies are those with the most economic freedom. Unemployment is low in those places—3 percent in Hong Kong, 2 percent in Singapore, 5 percent in Australia
Alas, the United States places ninth, behind Canada, and those countries with the least economic freedom have few real jobs and no prosperity.
Unfortunately, most politicians still don't understand—or have no incentive to understand—that economic freedom, and therefore less government, creates prosperity.
Well, maybe that's changing. This year is the first I've heard so many presidential candidates talk about the private sector. Indeed, former New Mexico Gov. Gary Johnson told me he created "not one single job. … Government does not create jobs."
The truth is we have too few jobs today because government stands in the way. If I'm an employer, why would I want to hire someone when Congress and the Labor Department have so many rules that I might not be able to fire that person if he can't do the job? Why would I take a risk on an investment when still-to-be-written rules about Obamacare, financial regulation and the environment could turn my good idea into a losing venture?
I refereed a debate on whether government creates or impedes economic activity.
"Government can spend and create jobs," said David Callahan, cofounder of Demos. "If government steps up and provides stimulus money to hire people, what we get is more people spending money in this economy, more hiring, and we get that virtuous cycle going."
Yaron Brook, president of the Ayn Rand Institute, replied:
"It is ridiculous to assume you can tax the people that are working and give the money [to people] who are not working and somehow this creates economy activity. You are destroying as much by taking from those who are working and creating."
Callahan then invoked the magic I-word.
"One place we need more government spending is for infrastructure. Drive down any road, go across any bridge, you are likely to see dilapidation. There was a bipartisan panel that said we need to spend $2 trillion or more on infrastructure."
"Don't pretend that stimulates the economy," Brook rebutted. "That money has to come from somewhere, that $2 trillion that you would want to spend on infrastructure is taken from the private economy."
"This is a fallacy," Callahan replied. "Twenty million jobs were created in the 1990s when we had higher tax rates than we do today."
And, by Keynesian logic, war can stimulate the economy.
"World War II was the great stimulus. … That kind of external crisis can inject a lot of new capital."
Brook said, "This is one of the worst fallacies of economics. This is called the broken-window fallacy."
The fallacy comes from Frederic Bastiat's story of the boy who breaks a shop window, prompting some to believe that replacing the window will stimulate a ripple of economic activity. The fallacy lies in overlooking the productive things the shopkeeper would have done with the money had the window not needed replacing.
"World War II did nothing to promote economy growth," Brook said. "Blowing things up is not an economic stimulus. Destruction does not lead to progress."
Don't expect most politicians to learn this any time soon.•
__________
Stossel is an author, and hosts "Stossel" on Fox Business Network. Send comments on this column to ibjedit@ibj.com.
Please enable JavaScript to view this content.