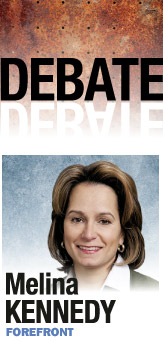 Question: "How would you describe race relations in Indianapolis?"
Answer: Earlier this year, the nation commemorated the 50th anniversary of the Freedom Riders—a brave group of civil rights activists who rode buses in the Deep South to end de facto segregation in our interstate transportation system. Theirs was not a smooth journey.
Perhaps you saw, as I did this spring, shocking historical news footage of black smoke billowing out windows of Greyhound buses as the Freedom Riders were met with violent resistance.
I'm thankful that, as a society, we've moved well beyond those haunting images. Today, African-Americans are legally assured equality in the workplace, in housing choices, and in access to public accommodations and the voting booth.
But, regrettably, even in 2011 we are not as enlightened as we might imagine or as we certainly should be. This includes our great city. We need to face the facts that minorities have fallen behind in Indianapolis.
The 2010 Census American Community Survey is certainly evidence.
Unemployment for African-Americans in Indianapolis/Marion County is 21.3 percent. We rank an unacceptable ninth among large American cities in regard to African-American unemployment, with more joblessness than metros such as New York City, Dallas, Los Angeles, Baltimore and Memphis. To our shame, African-American male unemployment in Indianapolis/Marion County is 25.4 percent—one in four!
My vision for Indianapolis is to become a quality-of-life capital, a place where people want to come for a job, for an education, for recreation, and for peace of mind and safety. That's all people!
And it starts with our neighborhoods. It is clear to me that we cannot become a quality-of-life capital if we don't recognize neighborhoods as the basic building blocks of the city.
Today, entire neighborhoods have been decimated by joblessness and despair. For example, the number of homeless in Indianapolis has increased to the highest level in four years.
Quality of life begins with a job, and I have a detailed plan to help us get there and stop shedding jobs, including in minority communities.
I can assure you from day one in a Kennedy administration, we will have a staff at the executive levels that reflects the wonderful diversity in our community. We will work hard to have police and fire departments that mirror our populace. It is important that public safety hiring and promotion policies are cognizant of this goal and that we implement policies and procedures consistent with it.
Finally, there is an inequality in our public education system that must be honestly addressed. Our city schools are falling behind and desperately need help. Unfortunately, these deficiencies end up costing our minority communities in a disproportionate way.
Too many of our children do not graduate from high school on time or at all. Our graduation rates are hovering around 60 percent at best, and even then, many of our graduating students are not prepared for success later in life.
That lack of academic success and failure to learn meaningful skills in turn contributes to much higher poverty, crime and ill health, and those problems significantly drive up the costs of social services.
We can do better. We must do better. To make a significant impact, we need to make sure every child in our Indianapolis public schools can read by third grade.
The last 20 years have seen a wonderful blossoming of different cultures in our city. You can see signs in many languages now—signs that weren't there just a generation ago.
It is our responsibility to nurture that diversity, not inhibit it, to truly make Indianapolis a quality-of-life capital for us all.•
__________
Kennedy, a former deputy mayor of Indianapolis, is the Democratic candidate for mayor. Send comments to ibjedit@ibj.com.
Please enable JavaScript to view this content.