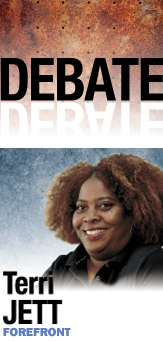 Question: Some exit polls during the 2010 election found Indiana voters identifying with the Tea Party at rates higher than in nearly any other state. What role will the Tea Party play in next year's elections in Indiana?
Answer: Recently, the Indianapolis Museum of Art housed an exhibit by the remarkable artist Thornton Dial called "Hard Truths: The Art of Thornton Dial."
Born into poverty in 1928 in rural Alabama, a son of sharecroppers, this self-taught artist has amassed a lifetime of creating magnificent sculptures, collages and representations from castaway items and materials indigenous to his environment. Dial's artwork, in all of his creations that have been described as "intense, raw, powerful," offers deeply insightful political commentary on American society of varying troubled historical contexts—such as the Depression, the era of Jim Crow, and even today's war on terrorism.
One particular piece uses mattress coils, chicken wire, clothing, can lids, found metal and plastic wire with enamel, spray paint and a particular glue compound on wood all in the shape of an American flag and is called, "Don't Matter How Raggly the Flag, It Still Got To Tie Us Together."
If you can visualize a seemingly chaotic group of red, white and a minimal aspect of blue pieces of cloth strewn together in the shape of a flag that is simultaneously striking and curious, while at the same time somewhat shocking, this can serve as a resonant metaphor when considering the climate in which the Tea Party movement has germinated.
Putting the politics of this party or movement aside, the idea of a group of people from various parts of the country deciding passionately to act to collectively seek a paradigmatic shift in the way things are done warrants democratic merit. And I must admit they have had some success in at least forcing all politicians to listen to their demands.
The media seems to be the most intrigued by the Tea Party movement, and who can blame them? They appear to be the most vociferous grass-roots entity focused on the political arena, particularly the upcoming presidential election.
The general public, on the other hand, according to the latest USA Today/Gallup Poll (August), is predominantly neutral in both their support and opposition to the Tea Party. They are tolerant of this marginal group of people whom pollsters indicate are predominantly Republican-identified, white, male, married, relatively wealthy and older than 45, interjecting anger into the public discourse in primarily attacking President Obama and anything having to do with government intervention in the economy. And yet that tolerance is waning.
The public, who substantially don't align demographically with the 15 percent to 20 percent of self-identified of this non-party, non-movement decentralized organization, are suffering. They want the focus of the president and congressional leaders to be on ascertaining solutions to arrest our increasing poverty levels, address stagnant high unemployment, offer real education reforms, meet the needs of our fledgling infrastructure, address inflated health care costs, and access issues and the energy crisis, not to mention the current "war on terrorism," including (human) costs associated with our continuing policing efforts.
And in fact, since the passage of the Affordable Healthcare Act, there has been a 4-percent decrease in the number of uninsured 18- to 26-year-olds due to the allowance of parents to continue to include their children of this age in their medical benefits, regardless of whether the children attend college. Indiana residents, like other Americans, want stability, and compromise is not a dirty word.
So, while dissent is an entrenched American value in relationship to public civil discourse toward problem resolutions, dissent just for the sake of disruption that simply further oppresses those who are already struggling and who have no real power to effect structural definitive change is counterproductive.
We all still need, as Thornton Dial suggests, to be "tied together."•
__________
Jett is associate professor and chairwoman of the Political Science Department at Butler University. Send comments on this column to ibjedit@ibj.com.
Please enable JavaScript to view this content.