Imagine the amount of liquid held in almost 3.4 billion of those 2-liter pop bottles.
That's the amount of water Eli Lilly and Co. claims to have saved last year versus 2007, as the result of an environmental improvement program.
Repairing leaks in its water systems and reusing water in cooling towers of its worldwide operations were partly to credit for the water use drop last year, which fell to 13.3 billion liters compared with 20 billion liters in 2007, the company said.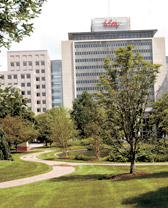 Eli Lilly repaired leaks in its water systems, reused water in its cooling towers, and reduced its landfill waste 50 percent in 2010. (IBJ File Photo)
Lilly also said it has reduced its landfill waste about 50 percent.
Much of that has been achieved by reusing waste, such as using the solid waste material mycelia, left over from a fermentation process, as a soil conditioner for farmland.
"Through the efforts of our employees worldwide, we're making great progress to lessen our environmental impact in the communities where we operate," said Steve Gillman, vice president of health, safety and environment.
By 2013, Lilly hopes to reduce water intake another 5 percent, while reducing the amount of waste sent to landfills an additional 20 percent.
The ultimate goal is zero-landfill waste, although that could be a tall order for a company with facilities in more than 30 countries.
Please enable JavaScript to view this content.