Allison Transmission is shipping products to international customers from a new plant in Szentgotthard, Hungary.
The company could not comment on its investment in the plant, which employs about 150 people, spokeswoman Melissa Sauer said. The plant assembles fully automatic transmissions for use in medium and heavy-duty trucks, which include city buses, construction and emergency trucks.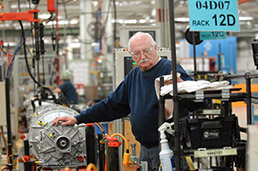 Allison's Indianapolis plant, seen here, has a new sister factory in Hungary that replaced an older facility there. (IBJ file photo)
A former unit of General Motors Corp., Allison used to share a factory with the automaker. The new facility is about one block away from GM's in Szentgotthard, which is in a rural area, Sauer said.
Allison had expanded its Hungarian operations in 2005 and announced plans to build a state-of-the-art plant in September 2010. Allison's other overseas facility is a manufacturing plant in Chennai, India
Please enable JavaScript to view this content.