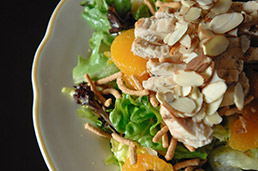 Poppy seed dressing is the mix-in of choice on Chef Mike's salads, especially on the chicken. (IBJ Photo/ Perry Reichanadter)
Park 100 isn't known for its original dining offerings. Nondescript office and warehouse space, yes. Local cuisine with a bit of ambition, not so much.
An exception is Chef Mike's Charcoal Grill (7102 Woodland Drive, 295-9490). The grill doesn't do much to alienate the grab-something-familiar-before-crashing clientele of nearby hotels, but Mike and his crew still manage to work in some interesting touches.
On our first visit, the highlights came early. Chef Mike's best-known creation is actually a condiment—the house-made poppy seed dressing. On our visit, it accented, upgraded and earned star billing on the Poppy Seed Chicken Salad ($9.59), topping a plate of big-leaf greens, mandarin oranges, Chinese noodles and almonds. Its ideal partner proved to be Chef Mike's Apple Onion Soup ($4.99), a delicious variation on traditional French onion, served blisteringly hot in a cheese-topped crock.
Entrees were less exciting—a dab of cucumber pepper relish was all that distinguished Grilled Salmon ($19.99). Not bad, just predictably OK, with standard-issue broccoli and cauliflower and relatively unseasoned roasted red potatoes. And I expected more from the Chef's Daily Roast Half Chicken ($12.95), featuring bland fowl and the aforementioned sides. I don't demand 11 herbs and spices, but these pieces needed something.
I kept things simpler on a return lunch visit and was glad I did. Had I removed the 6-ounce Bourbon Chive
Burger ($8.99) from its bun, it could have easily passed for an above-average meatloaf. The grill also did well by a Philly Cheese Steak Sandwich (a bit pricy at $9.25) with South Philly-style sliced rather than chopped steak and restrained use of fried onions and non-Philly green pepper. Siding the sandwiches with, respectively, Potato Salad and Red Raisin Slaw proved good choices over traditional fries. The red bliss potatoes, crunchy celery and a bit of without-warning heat helped them transcend.
Warning to first-timers: Even though you can see Chef Mike's from 71st Street, getting to the parking lot is a little tricky. Turn north on Woodland Drive and make a wild guess as to which of the unmarked three or four driveways to pull into on the left. Eventually, you'll pick the right one.•
__________
Third in our month long series of reviews of "en route" restaurants.
Please enable JavaScript to view this content.