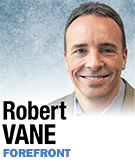 For decades, Democrats have dominated the governing structure of urban areas, but Indianapolis has been a notable exception, and it's worth examining why.
There is a brand of Republican Party philosophy that fits quite nicely with the demands of a big city, and from Richard Lugar through Steve Goldsmith, Indianapolis prospered in large part because of their leadership.
Unigov, Market Square Arena, the Hoosier Dome, the Pan Am Games, Conseco Fieldhouse, Circle Center mall—the list is impressive, but the list doesn't tell the whole story of our city's emergence.
Republican Party principles of keeping taxes low, keeping our fellow citizens safe, encouraging education reform, and embracing the entrepreneurial spirit as the best way to create jobs is just as compelling in an urban setting as it is for a national campaign.
In some ways, to concede a point, the Republican Party is compelled to adapt its message to the cities. States rich in Electoral College votes that Republican nominees consistently lose—such as California, New York, Pennsylvania, Illinois and Michigan—also have a significant concentration of voters in urban areas.
Simply put, the Grand Old Party cannot afford to write off those votes any longer. Republicans must elect urban leaders who succeed in articulating and implementing conservative principles because, when they do, a remarkable transformation can take place.
Let's look at one example outside Indiana, and that's Rudy Giuliani and his turnaround of New York City—the comedians' punch line of an ungovernable city.
Giuliani made the Big Apple not only governable, but also livable again.
He did it by emphasizing the Republican tenet of fighting crime as vigorously as practicable, and staying true to many other bedrock conservative principles like cutting taxes, supporting school choice and turning deficits into surpluses.
So if the results-oriented, back-to-the basics, let's-not-make-the-city-fit-the-ideology approach worked in New York City, why aren't there more Republican big-city mayors?
Part of it is tradition and the fact that political power begets political power. Once a party establishes control over an area, it is very difficult to break that hold. Detroit hasn't had a Republican mayor since 1961. The last Republican mayor of Milwaukee? 1908. It took 32 years to elect a Democratic mayor here after Richard Lugar's win in 1967.
Also, the Republican Party has done poorly in reaching out to African-Americans, other minorities and young voters. It is tough as a Republican to go into areas where entrenched, but mistaken, tradition has it that you don't really care about them or the people who live there.
Our current mayor has proven to be an exception.
The anti-tax wave that swept Greg Ballard into office in 2007 was a perfect political storm, thus not a permanent coalition. The mayor, realizing this, was determined to govern in a way that embraced the best of Indianapolis regardless of ideology.
Urban Republicanism, due to the fact it exists where demographics are not on the party's side, has to be inclusive, open-minded and display a willingness to play against type.
Ballard's brand of urban Republicanism includes making, as he puts it, "public safety job one." Like Giuliani, Ballard has effected a significant reduction in both violent crime and overall crime.
He also lowered income taxes, fought to lower property taxes, brought tens of thousands of new jobs to Indianapolis, and has expanded and broadened the city's charter school initiative.
The mayor also emphasized quality-of-life issues one doesn't normally associate with conservative ideology. He created the Office of Sustainability, dramatically increased the number of bike lanes, and established the Ex-Offender Re-Entry Program to fight recidivism.
Perhaps most important, however, is Ballard's Rebuild Indy program, which is investing over $400 million in much-neglected infrastructure.
Urban Republicanism is ultimately about an alternative way to get things done. It is a philosophy that, implemented with equal parts outreach and vigor, can transform a city. Our city, our Indianapolis, is striking proof of that.•
__________
Vane, a U.S. Army veteran, has worked for elected Republican officials including Indianapolis Mayor Greg Ballard, and currently owns the public relations firm Veteran Strategies. Send comments on this column to ibjedit@ibj.com.
Please enable JavaScript to view this content.