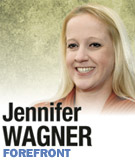 If you're aware of them at all, it's probably because you've tried to avoid them.

They knock on your door. They wedge brochures between handles and screens.

They call and call. They leave messages on your answering machine. And then they call again.

They are neither door-to-door salespeople nor telemarketers. They are not trying to convert you to a different religion. They just want you to exercise a constitutional right that many Hoosiers take for granted.

I'm referring, of course, to the folks who spend countless evenings and weekends working on behalf of the political candidates they support.

You've probably seen more of them in the past few weeks because we're closing in on this year's municipal election, but they've been engaged in the routine for months now.

I want to take this opportunity to thank them.

For the candidates whose names will appear on the ballot, walking, knocking and calling are a requirement of the job. For those who volunteer, it's a labor of love.

This pro bono group is often composed of family members, former classmates, colleagues, friends and friends of friends. In most cases, they expect and get nothing in return for the hours they devote to thankless tasks on the campaign trail.

For some, it becomes a way of life.

Several years ago, I remember talking to a political devotee about her vacation plans. She told me they were taking a family trip to Florida.

Knowing that their daughter was fairly young, I made the assumption they were going to the beach or Disney World.

Wrong.

They were heading south to help out a presidential campaign because Florida was a critical battleground for the candidate they supported.

I suspect that no matter where she winds up in life, their daughter will be an engaged citizen who pays attention to the political process—and knows how it works.

In a nation where so many of our elections are decided by fewer than 50 percent of voters, that's something to be cherished.

You can say a lot about the armies of volunteers who give up their weekends and evenings to generate support for candidates. They are dedicated. They are passionate. And most important, they are involved.

Think you know how your neighbors view the city? Knock on the door with a piece of candidate literature, and you might get more than an earful. Or go to a part of town that's far from your regular stomping ground and find out what folks there are talking about.

Not everyone has that kind of time to spare, so I'll make a more attainable request: Please, if you're legally able, make time to vote.

I can't tell you how many times I've had the following conversation.

Friend: "I hate such-and-such thing that Elected Official X is doing."

Me: "Did you vote for him?"

Friend: "No way! I don't vote. That system is broken."

And then my head explodes.

Every Election Day, the polls are open for 12 hours. If you can't make it during that span, you can vote absentee by mail or in person, a process that literally takes five minutes.

Don't think your vote counts? I've seen both primary and general elections come down to a handful of ballots.

Municipal elections traditionally net low turnout, but the races culminating in a couple of weeks will determine the leadership of our city's executive and legislative branches for the next four years.

If you care about who's in charge—if you want to complain later that things aren't going the way you had hoped—please take the time to cast your ballot on or before Nov. 8.

As for the volunteers who've spent months of time and shoe leather, I wish you the best of luck. You'll find out soon enough whether all your hard work translates into victory, but even if your candidate doesn't win, know that your efforts did not go unnoticed or without thanks.•

__________

Wagner is a lifelong Indianapolis resident who served as deputy director of public affairs at the National Nuclear Security Administration. Send comments on this column to ibjedit@ibj.com.