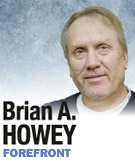 The old joke about how mixed up Indiana can be is that South Bend is in the north and North Vernon is in the south.
It has been a generation since the disputed 1984 recount involving the late U.S. Rep. Frank McCloskey down south and a similar event involving then-U.S. Rep. John Hiler in 1986 up north that cast a bright light on Indiana's questionable voting systems.
Now, controversial events in South Bend and North Vernon may bring an end to the stability in Indiana's elections systems.
When Todd Rokita was secretary of state from 2003 to 2010, Indiana upgraded its statewide voter files and evolved from the patchwork of lever and punch card voting systems. But now we find Rokita's Republican successor, Charlie White, under indictment for voter fraud while he claims he is not the "state's chief elections officer."
And now we find that Barack Obama and possibly Hillary Clinton did not actually qualify for the 2008 Indiana presidential primary due to forged ballot petitions in St. Joseph County and the 2nd Congressional District.
The South Bend Tribune's Erin Blasko reported on Oct. 14 that Trent Deckard, Democratic co-director of the state election division, said Obama's 2008 petition for primary ballot placement in the state contained just 534 certified signatures in the 2nd Congressional District. Clinton's petition contained 704 certified signatures, he said.
Presidential candidates must collect at least 500 signatures in each of the state's nine congressional districts to appear on the statewide primary ballot in Indiana. The Tribune and Howey Politics Indiana have uncovered scores of fake signatures on both the Obama and Clinton petitions in St. Joseph County. Dozens of people whose signatures appear on the Clinton petition have told the Tribune they did not sign the document, and Erich Speckin, a forensic document analyst hired by the paper and Howey Politics identified at least 19 suspected fake Obama petition pages.
Those Obama pages account for more than 100 signatures, meaning that, minus the suspected fake signatures, the former senator likely failed to collect the required number to qualify for ballot placement in the state.
The Tribune continued to report: Whether Clinton, a former senator and now secretary of state under Obama, would have collected enough signatures without the suspected fakes is harder to determine.
The forged signatures included those of former Gov. Joe Kernan and St. Joseph County Prosecutor Michael Dvorak.
Dan Parker, state Democratic chairman, told HPI on Oct. 10, "Clearly, someone did something wrong and they need to be found."
Indiana Republican Chairman Eric Holcomb, who will send a letter to the U.S. Department of Justice calling for a probe, said on Oct. 13, "There's a lot of who, why and when questions that need to be answered."
Holcomb is concerned that the 2012 process will begin in just three months.
If all this isn't troubling enough, a grand jury will be called in Jennings County for only the third time in the last 40 years to look into criminal charges surrounding a 2010 absentee ballot case. The North Vernon Plain Dealer & Sun reported that an absentee ballot had been requested for Ben Cook, who signed an affidavit stating he had never applied for such a ballot and was not even registered to vote in Jennings County. Cook, who is in his mid 20s, is the son of John Cook, a longtime active Democrat in Jennings County.
The case is being handled by two special prosecutors—a Democrat and a Republican—from Dearborn County.
All this raises troubling questions about the vulnerability of Indiana's election processes. During the midst of all this, the embattled and indicted Secretary of Hack Charlie White was firing off a bizarre complaint alleging that former U.S. Sen. Evan Bayh and his wife, Susan, committed voter fraud by using an Indianapolis condo as their official voting address.
No telling where north and south are in the scattered mind of our state's chief elections officer.•
__________
Howey is a third-generation Hoosier journalist who publishes Howey Politics Indiana. Send comments on this column to ibjedit@ibj.com.
Please enable JavaScript to view this content.