Sports reporters are infamous for taking advantage of team freebies, but who knew they had their own waitresses?
According to a federal lawsuit filed earlier this month, the Indianapolis Colts pay "hostesses" $40 per game to hand out stat sheets and ferry food and drinks to the press box.
One former hostess, Colleen Fenstermaker of Indianapolis, filed a class-action suit, saying the Colts violated the Fair Labor Standards Act by failing to pay minimum wage to her and others.
Fenstermaker is seeking back pay, plus damages, for herself and others in the same situation. Her lawsuit argues that the Colts don't qualify for any Fair Labor act exemption, such as "seasonal amusement and recreation," which would allow the team to pay less than minimum wage ($7.25 per hour).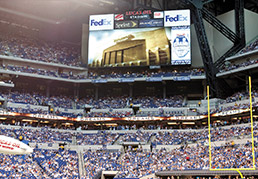 The Indianapolis Colts are accused by a former hostess of violating the Fair Labor Standards Act. (IBJ File Photo)
The Colts have not yet filed a response in the case, but General Counsel Daniel Emerson at Bose McKinney and Evans said one will be forthcoming.
"We believe she's mistaken in her allegations," he said. "We are confident this will be resolved quickly."
From 1998 until this season, Fenstermaker was one of about a dozen hostesses on the "statistics crew," who would pass out written materials to coaches, announcers and others in the press box area, the lawsuit in the U.S. District Court of Southern Indiana says.
"Fenstermaker and other hostesses would get drinks and food for those in the press box and otherwise attend to their needs and help them before, during and after the Colts' game."
The hostesses typically worked eight hours or more, showing up two hours before the kickoff and working "significant hours post-game," the lawsuit says. The Colts paid in cash and did not record the number of hours hostesses worked. When Fenstermaker started in 1998, the team paid $25 per game.
Fenstermaker hasn't worked any Colts games this year. The lawsuit says she was "wrongfully terminated" on Sept. 9, but it does not describe the circumstances. Fenstermaker's attorney, Robert Kondras of Terre Haute, did not return a phone call.
Please enable JavaScript to view this content.