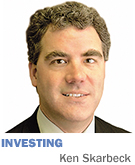 The breadth and stamina of the Occupy Wall Street movement has surpassed what almost anyone would have thought possible. Polls show that sympathizers come from both political parties and encompass a meaningful percentage of the population.
Some commentators have been critical of the group for lacking a cohesive message. The most common media sound bite is the "99 percent" theme, taken from a study by economist Joseph Stiglitz showing the richest 1 percent of Americans control 40 percent of U.S. wealth. Even people identified as the 1 percent have said they understand the frustrations of the Occupy crowd.
While Wall Street bankers are the chosen target of the protesters in New York City's Zuccotti Park, the breadth of the movement clearly is a sign of citizens' frustration with the economic and political landscape. Social media has enabled groups of protesters to assemble quickly in cities across the globe—including our own.
Politicians are learning to be careful in appearing dismissive of the protestors. Initially, Mitt Romney (a 1-percenter) denounced the protestors as "dangerous" for stirring up class warfare. He quickly changed his tone. Warren Buffett also weighed in, confirming that it is class warfare and acknowledging that it is his class, the rich, that is winning.
A decades-long widening of the gap in income inequality has come to a head in the wake of the Great Recession. Leading up to the credit crisis, Wall Street enjoyed a period of "cowboy capitalism" where bankers took huge risks to earn big bonuses. When it all came crashing down, taxpayers were asked to absorb the losses. This disfigured form of capitalism, where losses are socialized and profits are privatized, has left many bitter.
In the aftermath of the financial meltdown, few institutions were punished for their transgressions and the bankers returned to doling out large bonuses. The handful of financial CEOs who were ousted left with massive severance payments in spite of their managerial misdeeds. Now with new regulations in the wings, Wall Street and its army of lobbyists are fighting hard to water down the rules.
Comically, the same old tune continues to play. Bank of America's stock has plunged 50 percent this year, and the company said it will lay off 30,000 employees. Last week, Bank of America fired wealth-management chief Sallie Krawcheck and executive Joe Price. For their failed efforts, the two executives will receive a combined $11 million in severance.
Or take Jon Corzine, former CEO of Goldman Sachs and ex-governor of New Jersey. His administration was largely responsible for New Jersey's financial mess. Now, Corzine has taken his talents to MF Global, an investment trading firm that recently was ordered by regulators to boost its capital for speculating in the high-yield debt of Portugal, Italy, Ireland, Spain and Belgium. Thanks for being a protective steward of our fragile financial system, governor.
Unfortunately for the Occupy Wall Street contingent, it is going to take time to get the economy on stronger footing. A rational approach to begin to solve our country's ills would encompass both a significant restructuring of the tax code that is revenue-positive, and meaningful cuts to entitlements.
The self-centered approach—cut my neighbor's taxes or cut his services, just not mine—won't work. Sacrifices will be required from all Americans.•
__________
Skarbeck is managing partner of Indianapolis-based Aldebaran Capital LLC, a money-management firm. His columns appears every other week. Views expressed are his own. He can be reached at 818-7827 or [email protected]
Please enable JavaScript to view this content.