Butler University this year hired an outside ticket sales firm and added four games to the home schedule to bolster attendance and increase men's basketball revenue. (IBJ File Photo)
Last year, Butler University drew more than 100,000 people through the Hinkle Fieldhouse turnstiles for the first time in more than 40 years, pushing home attendance for men's basketball to 7,178 per game.

That's double the crowds of a decade ago. Coming off back-to-back NCAA runner-up finishes and the addition of four extra home games, attendance is likely to jump again this year.

That should please Butler's new boss, who is pushing for more.

James Danko, who became Butler's president Aug. 1, wants to use the men's basketball team as a key marketing tool.

"I've seen how leveraging athletics can lift the image of the entire university. I absolutely see the athletic department, and the men's basketball team in particular, as critical in doing that here," said Danko, former dean of Villanova University's business school.

But keeping basketball in the forefront means the relatively small program must raise its revenue game—without pricing the Bulldog faithful out of the arena.

That's the challenge for Athletics Director Barry Collier in trying to keep pace with basketball dynasties, such as Duke and Indiana, that have much larger arenas, fan bases and alumni networks from which to draw.
Paying for priority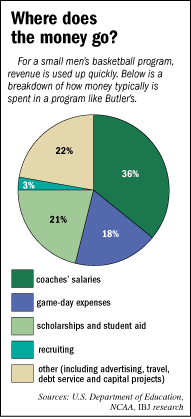 Collier decided to raise prices only about $1 per ticket this year. Already, Butler has sold out season tickets for courtside and lower-level seats. Courtside seats go for $91.67 per game ($1,650 per season), while lower-level tickets cost $30.50 per game ($549 per season).

The ticket price, however, is only part of the cost. A priority points program that was instituted four years ago has some fans upset that they can't keep the seats they're used to by simply paying face value.

The point system has spread to colleges nationwide over the last two decades as schools fight to lure increasingly high-priced coaches and build the types of infrastructure that lure top-flight student athletes.

While the length of time a person has held season tickets plays into the priority program, so does how much the ticket holder donates to the school.

Some longtime Butler fans and alumni have reported needing to pay a donation of $500 to $2,000 beyond the cost of tickets to keep the same seats they've had for years—in some cases for decades.

Only 20 to 25 Butler season-ticket holders get moved each year due to the points system, Collier said, and he's heard few complaints.

"We've never sold the building out in season tickets, so we're not throwing anybody out of the building," he said. "And remember, this money goes to the student-athlete. That's the No. 1 priority."

Sports economist Andrew Zimbalist said Butler must be careful what it demands from its supporters.

"It's a delicate balance, especially in a market like Indianapolis where there are several professional sports teams and other entertainment options," said Zimbalist, a professor at Smith College in Northampton, Mass. "They could really shoot themselves in the foot" by asking too much.

No apologies

David Morton, a local sports marketer and Butler graduate, makes no apologies for his alma matter.

Butler basketball has a different identity today than in years past, said Morton, president of Sunrise Sports Group. "As a result, it costs more money to operate the men's basketball program. If basketball can generate more money, I think they should go get it."

As Collier does what he must do to grow the program, Morton thinks it's only natural that some will turn their backs on the Bulldogs.

"You grow the pie while understanding there's unfortunately going to be some attrition along the way," Morton said. "The reality is, that's the way the business is. Barry didn't create the environment, he's trying to survive in it."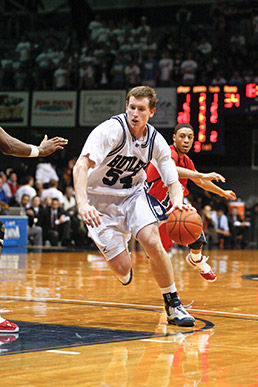 Butler has used various tactics to lure top-flight athletes like Matt Howard. (IBJ File Photo)
Blair Vandivier, president of Butler's Central Indiana Alumni Chapter, said the ticket price structure and priority point system has wide support among the 19,000 members of his organization.

"I still feel it's the best value in town," Vandivier said.

Nichole Freije, vice president of the local alumni chapter and a 2004 Butler graduate, said she has heard some younger alums voice concerns over ticket prices.

"The tickets are certainly harder to come by now than when I was a student, and the price is definitely a hit," Freije said. "But most people I've talked to understand the situation and support what they're doing with the program."

Butler has been more frugal than most big-time college sports programs, but using the Bulldog basketball team to spotlight the larger university puts pressure on the school to pump up fundraising, ticket sales and sponsorship revenue.

Butler has increased its own advertising budget and last year hired Butler alum and former Indiana football coach Bill Lynch to ramp up fundraising. Butler this year hired ticket sales outsourcing firm, Get Real Sports Sales, to pump up group and season-ticket sales. The school recently launched a $25 million capital campaign to improve 83-year-old Hinkle Fieldhouse.

While Collier won't divulge financial particulars, he reports "significant increases" in all major revenue categories since the basketball team's emergence as a national power. Collier said the sponsorship slice of the pie has increased, which takes some pressure off ticket prices.

Financially outmanned

The question now, said sports business experts, is how Butler can continue to catch lightning in a bottle without joining the college-sports arms race and overextending itself financially.

Butler's annual men's basketball expenses of $2.8 million are in the bottom quartile of 339 NCAA Division I programs. They're not even one-fourth of Duke's $12.3 million hoops budget, and barely more than one-third of IU's $7.7 million budget, according to figures submitted to the U.S. Department of Education.

Revenue paints a bleaker picture for Butler. According to Department of Education data, Butler generated $2.8 million in men's basketball revenue during the 2009-2010 season, the most recent year for which data is available, while Duke scored an NCAA-leading $26.7 million and IU brought in $16.6 million.



The big numbers mean Duke and IU can more easily spend on their basketball programs, but they can also siphon off excess money for other sports programs within the school.

Collier, who became Butler athletics director in 2006, said he has no interest in joining the arms race. He said instead of using new facilities to attract top players, Butler will rely on the school's academic track record and the school's historic significance, attractive campus and central location.

But to some extent, Butler will be forced to arm itself. For a small men's NCAA basketball program—especially one trying to maintain a top-notch team—money is used up quickly.

Paying a head coach and his assistants likely eats up 35 percent to 40 percent of Butler's budget. Butler signed Coach Brad Stevens to a 12-year contract extension following the school's first Final Four run in 2010. Most sports-business experts estimate Stevens now earns $750,000 annually or more.

The school's Form 990—a federal disclosure required of all not-for-profits—showed that Stevens' pay was increased from $257,004 in the 2008-2009 season to $554,941 for the 2009-2010 season, the most recent year for which data is available.

The next-biggest expense is scholarships, which usually chew up 20 percent or more of the budget. Game-day expenses eat up about another 20 percent, while things like recruiting expenses, travel, marketing and capital projects quickly consume the rest.

"Just because a team gets to the top of the mountain, that doesn't mean the financial struggle is over," Zimbalist said. "The pressure to raise revenue is ongoing. If anything, it intensifies with success."

Butler has certainly tried to be frugal where it can.

While Stevens made $170,756 more in 2009-2010 than the university's president at the time, Bobby Fong, he made far less than IU Coach Tom Crean, who makes $2 million annually.

Butler's 2009-2010 total athletics department recruiting budget was a minuscule $73,087, while IU spent $601,707 and Duke $923,539 for the same line item.

Pros and cons

A college athletics department has four primary revenue streams—tickets; sponsorships; income from media deals, merchandise sales and parking; and donations.

Butler has two strikes against it.

While Hinkle was a goliath when it was built in 1928, its 11,043 capacity is 6,413 fewer than IU's Assembly Hall. And while Butler has 42,058 living alumni, IU has more than 320,000.

But Butler is doing everything it can on the sponsorship front, including signing a 10-year deal with local computer consulting and software development firm Zotec Partners LLC. The company's name and logo will appear on the court, a first for Butler.

"We thought the Butler program and Brad Stevens were such compelling stories, we wanted to be a part of it," said Zotec CEO T. Scott Law. "We like what they stand for: honor and integrity."

Butler officials wouldn't reveal how much sponsorship income has grown, but they said the number has increased by a double-digit percentage over last year.

Ken Ungar, founder of Indianapolis-based branding and marketing firm US Sports Advisors, said considering Butler's success on the court, sponsorship revenue is probably at least 25 percent higher.

"Butler used to be a local or regional buy," he said. "With the exposure they've gotten over the last two years, now it's a national buy."•