Two veterans of vintage retail are teaming up to open a store on a near-east-side corridor that's getting renewed attention from the 2012 Super Bowl Legacy Project.
Called Tim & Julie's Another Fine Mess, the store is slated to open next spring at 2901 E. 10th St. and will be operated by Tim Harmon and Julie Crow.
Indianapolis antique aficionados likely will recognize Harmon, 59, as a longtime owner of Tim & Billy's Salvage Store, later called Tim and Avi's, which closed in late 2006. Crow, also 59, has operated businesses in Broad Ripple, most notably the Modern Times vintage clothing store that closed in 1995.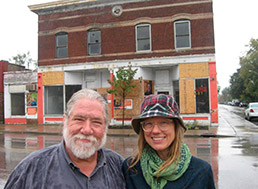 Tim Harmon and Julie Crow are teaming up on a retail venture. (Photo courtesy East 10th Street Civic Association)
The new store will feature a blend of architectural antiques salvaged from demolished homes and businesses, as well as vintage clothing and textiles, and assorted artwork, handicrafts and other goods made before 1960.
"It will probably look like a combination of Tim & Billy's and Modern Times," Harmon said of the store. "We're not gong to stray from what we know and what we're known for."
Harmon and Crow purchased the 6,000-square-foot building on East 10th Street for an undisclosed price from the East 10th Street Civic Association and plan to invest about $100,000 to renovate the building. They may be eligible for a façade grant to replace the plate-glass windows, woodwork and doors on the storefront.
The building was built in the early 1900s by Edward Vahle to house his hardware store. A general store, physician's office and art-supply store also have operated at the two-story, brick building. Most recently, it was a used-appliance store.
Harmon and Crow first scoured the trendier Fountain Square and Mass Ave districts for a building but ultimately bought the property on East 10th Street.
     
The shop could get a boost from commercial activity spurred by the 2012 Super Bowl Legacy Project.
Six projects with almost 20,000 square feet of commercial space will be completed this year and in 2012 along the corridor, which runs from near Jefferson Street east toward Sherman Drive.
Those include buildings such as the Mayfair at 2032 E. 10th St., which was donated to the civic association and is tenant-ready, and Clifford Corners, an $8 million, mixed-use development at 3101-3125 E. 10th St. that is set to break ground in early December and open late next summer. The three-story building, with 36 residential units and 8,000 square feet of commercial space, is being developed by the East 10th Street Civic Association in partnership with Riley Area Development Corp.
Another 4,000 square feet of commercial space is nearly finished on the ground floor of St. Clair Senior Apartments, a three-story, $7.6 million project just wrapping up at 10th Street and Keystone Avenue. The project, which features 33 apartments, is scheduled to open early next month. It's being developed by Indy East Asset Development and Riley Area.   
Milhaus Realty has been hired to lease the St. Clair commercial space. There's no broker yet for Clifford Corners, but at least one tenant, Marco's Pizza, has expressed interest in the space. In addition, several new businesses, such as Little Green Bean Boutique, a children's clothing resale store, and Pogue's Run Grocer, the city's first food cooperative, have opened along the corridor.
"Another Fine Mess will be a great addition to the growing number of businesses along East 10th Street that have opened just in the last year," Tammi Hughes, executive director of the East 10th Street Civic Association, said in a prepared statement.
Harmon and Crow are confident the business will succeed despite the unstable economic conditions and poor housing market.
"What we sell on both sides is very popular and it's really affordable, and it's reuse; it's the same as recycling," Harmon said. "We're a perfect business for a down economy."
Harmon spent 20 years operating his previous salvage store—last located at 25th Street and Central Avenue—which built a national following. Besides being highlighted in The New York Times, Tim & Avi's was featured in Time magazine in 2000 for its large stock of used, high-flow toilets.
Harmon bought out his partner, William "Billy" Vant Woud, in 1998 and brought his son, Avi, into the business until the store closed in 2006.
Please enable JavaScript to view this content.