The first indication something was amiss at HealthNet pharmacy came, oddly enough, after a traffic stop by Indianapolis police.
Hundreds of hydrocodone and clonazepam tablets—one a painkiller, the other a sedative—were found and traced to the Indianapolis pharmacy.
Within days, U.S. Drug Enforcement Administration investigators began an audit that was unable to account for 334,000 tablets of controlled substances the pharmacy handled from 2005 to 2008. Among the trove were 196,000 tablets of hydrocodone, which have a street value of more than $1 million.
The heist, recounted in Indiana Board of Pharmacy files, wasn't attributed to masked bandits, but rather to a pharmacy technician.
Over the last 12 months, the board has conducted license litigation involving at least
35 pharmacy personnel statewide who've been accused of stealing drugs from work, a review of its records shows.
Among those disciplined is the former pharmacist in charge of the HealthNet pharmacy. In July, the board placed his license on indefinite probation stemming from inadequate record-keeping and for giving pharmacy techs too much unsupervised access to controlled substances.
Theft by pharmacy personnel costs retail and clinical pharmacies millions of dollars annually, although exact numbers are hard to come by. And individual companies hold their own loss numbers close to the vest.
What is clear is that the majority of thefts by pharmacy personnel appears to be motivated by drug addiction, said John Burke, president of the National Association of Drug Diversion Investigators.
That's worrisome to the extent that a pharmacist or pharmacy tech is drug-impaired and makes a mistake while filling a prescription.
"It's these people who are giving you drugs, your wife drugs, your kids drugs," said Phil Wickizer, director of the pharmacy board.
Board records from the year ended Sept. 30 show no indication of patient injuries or deaths related to pharmacists who stole from work and who may have been impaired on the job.
But a pharmacist whose suspended license came up for modification last March shows the potential for trouble.
Tony Jacobs worked as a pharmacist at a Kmart. His estranged wife called police in the northeastern Indiana city of Huntington and alleged that he was addicted to hydrocodone. She alleged he was stealing it from the pharmacy.
A store camera later showed him ingesting the painkiller. He was questioned.
"Store officials observed that during the interview [Jacobs] had a difficult time staying awake," said pharmacy board records.
Jacobs was arrested, and the board suspended his license. Huntington County Superior Court later vacated his conviction under Class D felony and entered a judgment for Class A misdemeanor. Then, crediting Jacobs for entering a treatment program, the board placed his license on probation, although it's unclear whether he's working again in a pharmacy.
"The pain pills are the ones that get diverted most," said Dennis Wichern, assistant special agent in charge of the DEA's Indianapolis office.
Another case reflects an even more alarming scenario of addiction among those wearing white pharmacy coats.
Sandra Hayes was a "floater" pharmacist who worked at Marsh grocery stores in Indianapolis, Lafayette, Marion and Zionsville. In June last year, she admitted taking 210 tablets of hydrocodone from her employer in a two-month period.
That wasn't the only drug the pharmacist was using. Blaming a previous surgery and, later, the death of her husband, Hayes admitted to becoming addicted to Percoset. She told the pharmacy board that by April 2010 she was using as many as 12 of the narcotic painkillers a day.
When her prescription for Percoset ran out, she started taking the hydrocodone from Marsh, along with 110 tablets of Norco, another painkiller, according to board records. Hayes signed a contract with the Pharmacists Recovery Network, a group that helps pharmacists kick the habit and become employable again. Earlier this year, the network determined it was safe for her to return to work as a pharmacist. In May, the board upgraded her status to indefinite probation.
But the way back isn't assured for pharmacists, even those who've completed PRN recovery, said John Uskert, an attorney at the Marcus Law Firm in Fishers who represents Hayes.
Consider the decision of an employer choosing between an experienced pharmacist disciplined for diversion and a candidate with a "squeaky clean" record.
"Who are you going to hire?" he said.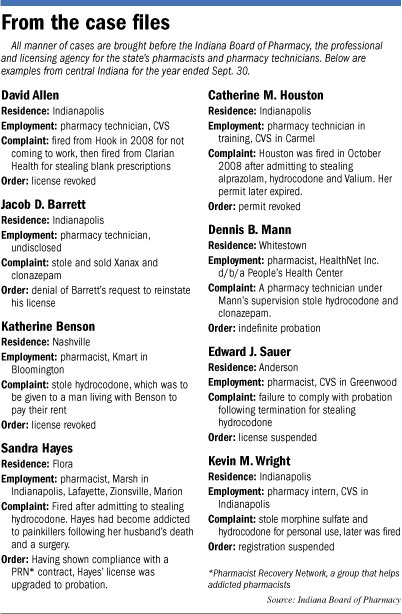 Uskert laments that Hayes had an accomplished career that was brought down by a personal crisis. "With the loss of her husband, it was pretty tough."
A pharmacist himself, the attorney said pharmacists' disciplinary records are available for public view practically in perpetuity. He wonders whether the case files should be removed after a period of time if a pharmacist has recovered and gets back to practicing again.
Complaints typically are brought by the state Attorney General's Office and contain allegations that aren't necessarily proven—yet they bear considerable weight, he said.
Perhaps the most alarming case in recent records involves a pharmacy technician at a Kroger in Columbia City, west of Fort Wayne. Crystal Cramer told investigators last year that her addiction was so severe "that she was consuming approximately 28 tablets of hydrocodone three times per day."
It's hard to imagine anyone being able to function at that quantity, let alone to accurately dispense drugs to patients.
Cramer was arrested and the board revoked her license, noting she was using other employees' scan cards in an attempt to conceal the drug thefts.
"The biggest issue is, you have someone who is impaired making life-and-death decisions with pills," said Burke, who also is former head of the Cincinnati Police Department's pharmaceutical drug task force and currently commands the drug task force for Warren County, Ohio.
Profit motive
Sometimes it's not addiction that drives pharmacy personnel to lift a Lortab or pluck a Percoset.
"You have the person who has become an entrepreneur, so to speak," added Burke.
Even pharmacy technicians-in-training, such as Catherine Houston of Indianapolis, can fall prey. She admitted to taking from a CVS in Carmel three bottles of alprazolam (a tranquilizer also known as Xanax), eight bottles of hydrocodone and one Valium pill.
Houston "indicated that she was stealing the drugs and selling them to a man," agency records say.
The board, as it typically does in theft-for-profit cases, revoked her pharmacy tech permit.
Pharmacy board director Wickizer said many of the theft-for-sale incidents involving pharmacy technicians may have more to do with economic motivation. While highly trained pharmacists can make upward of $100,000 a year, many technicians earn $25,000 to $35,000.
"Pharmacists, you don't usually see diverting for sale," he said.
But board records show pharmacists do sometimes resell. In April of last year, Bloomington police arrested Kmart pharmacist Katherine Benson after the store's loss manager alleged she was stealing drugs, including 33 bottles of hydrocodone and one bottle of injectable testosterone—a total value of $5,705.
Benson admitted to giving the hydrocodone to a man who lived with her "who would then sell the hydrocodone to pay their rent."
The board revoked her pharmacist license in December.
Still, such diversion cases are relatively rare.
The roughly 35 license litigation cases over the last year involving drug diversion were among about 66 total license litigation cases involving pharmacy personnel. Some of these 66 amounted to little more than pharmacists' failing to maintain professional education requirements. The state has 10,324 licensed pharmacists and 15,029 pharmacy technicians.
It's hard telling how much drug diversion is occurring under the radar, however. By some estimates, 12 percent to 15 percent of all health care professionals will struggle with addiction at some point in their careers.
Cracking down
"It can be difficult to spot," said Burke, recounting a sting case involving a pharmacy technician. To each meeting, the technician would bring entire bottles of drugs, some with as many as 500 pills, but police struggled to figure out where he was getting them. It was not until the technician "stupidly" one day brought the bottles in a bag bearing the name of the pharmacy that investigators finally pinned down the location.
Often, it is the floater pharmacist who works at multiple locations who can best evade detection because it takes longer for a trend to emerge in a particular store. Some drugs, such as oxycodone and morphine, are on "perpetual inventory," Burke said. Others, like hydrocodone and Vicodin, might not be subject to an extensive inventory until every two years.
Wichern said many pharmacies are paying closer attention to drug flow. Many now employ more sophisticated software to analyze drug flow patterns or have installed cameras with higher resolution to catch wayward personnel in the act.
A Walgreens spokesman declined to talk about the extent of drug loss or measures to combat it.
Similarly, Mike DeAngelis, spokesman for CVS, the nation's largest retail pharmacy chain, said, "We do not comment on our security measures because we do not want to undermine their effectiveness."
Meanwhile, pharmacy schools have been trying to teach students in the early years about the perils of addiction and theft.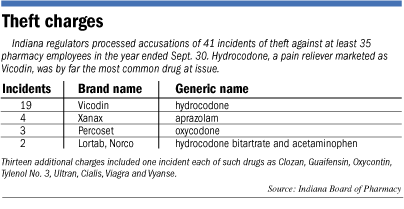 Butler University, for example, has a required ethics course for pharmacy students. One scenario that comes up is, "What do you do if you have a fellow health care professional you think is impaired?" said Amy Peak, a clinical pharmacist and director of drug information services at Butler's College of Pharmacy.
It's an issue she had to confront while working at a hospital, where she reported a former colleague. Security wouldn't let the man back in the pharmacy and he was tested for drugs.
"Health care providers have more access than anyone in the general population," Peak said. "No. 1 is public safety. You don't want an impaired person putting someone in danger."
Compliance with terms of a contract with the Pharmacists Recovery Network is usually a must to get back in good graces of the state pharmacy board. Such contracts include counseling, drug testing and the requirement that addicted pharmacy personnel and their employees file regular reports on the status of the recovery.
More recently, the state has beefed up licensing requirements of pharmacy techs. Pharmacy board director Wickizer said the state this year started requiring FBI criminal background checks of all new tech applicants, as well as pharmacists.
One encouraging sign is that the local DEA has not had to respond to a big internal pharmacy theft case since HealthNet in 2008.
HealthNet closed its pharmacy operation in October of that year, although the not-for-profit group continues to operate a network of health care facilities in the Indianapolis area for low-income residents.•
Please enable JavaScript to view this content.