Every election cycle, the mantra seems to be, "Are you better off than you were four, two or how-many-ever years ago?"
The assumption behind such a question is that one should make a judgment based on how you, personally, have been affected by someone else doing a job.
I question whether this is what we should be asking. After all, shouldn't we be concerned with how others are doing, too? But I did ask the question when I heard Maxwell Anderson is leaving his position as director and CEO of the Indianapolis Museum of Art to take a similar gig in Dallas.
Am I, as a patron of the IMA, better off than I was more than five years ago, when Anderson took the job?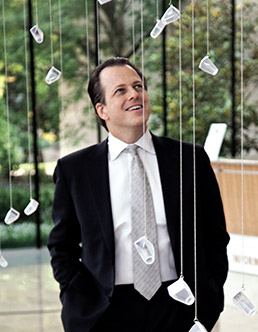 Maxwell Anderson ends his tenure as CEO of the Indianapolis Museum of Art on Dec. 31. (Photo Courtesy Indianapolis Museum of Art)
To be clear, I'm not asking this as an employee of the IMA. I'm not asking this as a museum board member or donor. I'm not asking as a neighbor, and I'm not asking as an artist.
I'm just asking as a guy who believes art can enlighten, transform and give perspective. And as someone who believes it's part of the responsibility of an art museum CEO to make sure his or her organization is a cultural leader. That it prompts questions that don't necessarily have easy or popular answers.
I'm also asking it as a guy who wants his kids to be around art because it uniquely reminds us that we are and always have been human and that the world looks both different and the same when seen through the eyes of others.
It's tough to deny that, during Andersons' 5-1/2-year tenure, the IMA universe seems to have expanded exponentially. I used
to tell out-of-town friends that ours was a good "one-of-each" museum. We have our Seurat. We have our O'Keefe. We have our Gauguin—all fine for us, but not impressive to the outside world. Among our other selling points were the IMA's ease of access (before the ill-fated admission charge kicked in) and the fact that you could take your kids' pictures near their respective ages in Robert Indiana's "Numbers" sculptures on the deck.
These days, it's not so easy to get near Indiana's numbers, but it is certainly easier to experience the IMA. Gone is the admission price (except for special exhibitions), which is an enlightened move that sends the right message about who art should be for. Gone is the building's "seen-it-before" façade. Gone is, frankly, the yawn.
Not that this is the most important thing, but we seem to have a lot more to brag about these days.
The last half decade at the IMA has included a mix of strong-enough-to-play-anywhere shows on Warhol, Dial and others, as well as introductions to contemporary artists, including some locals.
And we've now got a great park in the IMA's back yard—one likely to be experienced by many people who otherwise would not have set foot in the main building. The 100 Acre Art & Nature Park actually did draw national attention. And deserved it. So did the IMA's acquisition of the Miller House in Columbus, an architectural treasure among Columbus' architectural treasures.
And where we once had IMA movies only in the summer on the terrace, we now have the Toby, a terrific screening room that actively programs films both popular and obscure.
And the cornbread at the café is really good now, too.
Does that mean I like everything I've seen on the IMA walls and grounds under Anderson's watch?
Absolutely not. Followers of this column know that. And I'm glad it's that way. Some choices worked for me, some didn't. And that's how it should be. A good art museum—in fact, any good arts institution—should give us stuff to chew on, not a steady diet of things that go down easily. If I railed a bit loudly about, for instance, certain works that crowded the IMA entryway, well, I knew another potentially interesting work would take its place in a few months' time. I never would have preferred a parade of more conservative choices. I go to an art museum to see things I haven't seen and for new ways of seeing what I've seen before.
What was that question again?
Oh, yes: Am I better off as an Indy arts patron than I was five or so years ago?
My answer? An emphatic, yes.
And while I fully realize that what's been achieved has been a team effort—with much of the groundwork paved while Anderson was still doing battle on the New York art scene—I can't imagine that all of this would have happened without his guidance and his tenacity.
Like many others, I didn't expect Anderson to stick around Indianapolis long. In the beginning, I had him pegged for three years and out. But I don't hold moving on against him. As a transplant myself, I appreciate that sometimes roots take and sometimes they don't. A strong arts community is built on a combination of permanent and temporary work, permanent and temporary artists, and permanent and temporary leadership.
I wish Anderson's family the best in their new home. I congratulate Dallas on its new hire. And I offer a thank you to Max Anderson for having the impact he did on Indy and our art museum.•
__________
This column appears weekly. Send information on upcoming arts and entertainment events to lharry@ibj.com.
Please enable JavaScript to view this content.