I'll admit, I was surprised by what I didn't see when I took my first look at the lunch buffet at The Clay Oven (7415 U.S. 31 South, 888-2600).
Yes, there were plenty of appetizing dishes packed into the back of this simple but appealing new, locally owned eatery on the south side. But where was the naan? What's an Indian buffet without those soft slabs of deliciousness? And what am I supposed to use to soak up the extra sauce? The cracker-crisp Papad is too fragile. And that other bread whose name I missed? Too crunchy and without the naan's absorbent powers.
But just as I was getting over my disappointment, the friendly waiter brought out a basket of—not just naan—but hot naan right out of the clay oven.
Ahhhhh!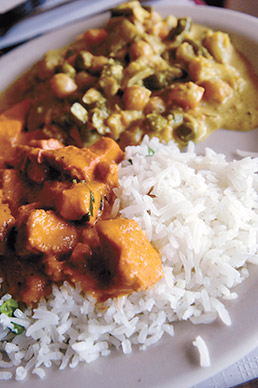 There's plenty to choose from on The Clay Oven's lunch buffet. (IBJ Photo/ Perry Reichanadter)
Now I could comfortably and without reservation dig in to a cinnamon-hinted Chicken Mathi Masala and its pepper-powered brighter orange cousin, Chicken Tikka Masala.
Some might find the Allu Palak creamy to a point of near-liquid status, but the spinach and potato standard was just fine by me (especially with the naan to scoop it up with). More substantial as a side—or for a vegetarian entree—was the Allu Gobhi, a potato, cauliflower, onion, tomato and ginger combo. Or the Vegetable Korma, a nine-veggie combo with nuts and saffron. Chana Masala, billed as a vegan choice, featured garbanzo beans and spinach in a light cream sauce and, together, these filled me up to a point where I resisted the Tandoori Chicken.
Dessert prospects were limited, but a taste of Warm Carrot Pudding was enough to top off a meal well worth the $7.95
Truth be told, it was my second trip in two days to this particular strip center. My first effort to visit The Clay Oven was on a Monday, when the eatery is closed. I settled a few doors down for the inconspicuously named Mexican Buffet and Grill (7327 U.S. 31 South, 888-2888), which, although undergoing a name change about a month ago, still bore the marks of its former life as Oriental Buffet and Grill (the Mongolian grill is still an option).
Sure, the steam-tabled Mexican choices—not the natural habitat for a quesadilla—and some of the random others (spaghetti?) left the feeling that this was just another shovel-food-to-the-masses option. Maybe it is. But the burritos are made to order, and—when combined with a salad and a little dessert—made the $6.98 charge border on a bargain. And friendly wait service helped balance the karma of my surly burrito chef.•
—Lou Harry
__________
First in a month-long series of reviews of new ethnic eateries.
 
Please enable JavaScript to view this content.